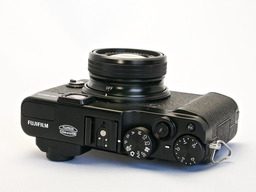 When I walk out the door for a morning walk, the camera that I slide in my front pocket is the Fujifilm X20 compact camera. Why? Aside from its terrific image quality and handsome good looks, it's the optical viewfinder.
Angled morning light is great for photography. But it's hard on LCD screens. And I need a compact camera that allows me to comfortably compose the picture outdoors. The optical viewfinder for the X20 is perfect for these conditions.
"Two Trees in Shilo" - Fujifilm X20, ISO 200, f/4, RAW - Photo by Derrick Story.
Fujifilm's viewfinder zooms with the lens so I have a relatively accurate field of view. Plus its readouts keep me apprised of the current camera settings. It's not as accurate as the framing with a DSLR. But then again, the X20 fits in my front pants pocket and only weights 12 ounces.
I'm lucky that I get to use different cameras for different situations. And when I need a pocketable compact for a morning hike, the Fujifilm X20 is definitely my first choice.
---
Flickr Essential Training 2013 - I explore the entire Flickr universe, mobile and computer, in my lynda.com title, Flickr Essential Training. Stop by and take a look.
Want to Comment on this Post?
You can share your thoughts at the TDS Facebook page, where I'll post this story for discussion.