October is a wonderful time of year to immerse in nature. And outdoor photography doesn't have to be a burdensome affair. I was out shooting on Tuesday morning with an Olympus OM-D E-M5 and just two lenses: the Olympus 75mm f1.8 and the Olympus 17mm f1.8. All fit comfortably in my svelte Lowepro Urban Reporter 150 shoulder bag.
Grape Leaf - Olympus OM-D E-M5, Olympus 75mm lens, ISO 200, F/2 - Photo by Derrick Story.
I did include a few accessories, such as a polarizer, small flash, Joby Gorillapod, iPad mini, and a couple snack bars. I dressed in layers so I could adjust my clothing as the environment changed. I wore the Nimble Photographer Walking Man cap to keep my head warm and the low-angled sun out of my eyes. In one of the side pockets of the Urban Reporter, I carried a water bottle to keep me hydrated while working.
Self portrait with my light-footed nature photography kit.
Could I capture every type of nature shot with this rig? Of course not. Some days I take big tripods and big cameras. But other times, I just want to enjoy nature and bring home some images. And those are the times that I love traveling light.
---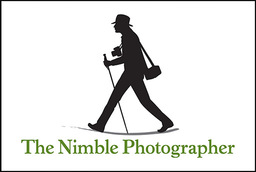 This camera kit has a high Nimbleosity Rating. What does that mean? You can learn about Nimbleosity and more by visiting TheNimblePhotographer.com.
Want to Comment on this Post?
You can share your thoughts at the TDS Facebook page, where I'll post this story for discussion.