This week on The Digital Story photography podcast: Nikon Df mechanical/digital DSLR; on The Nimbleosity Report - Olympus Stylus 1; From the Photo Help Desk - Do I need expensive filters? All of this and more on today's show with Derrick Story.
Story #1 - Nikon Df DSLR - What started in the Scottish Highlands with an excellent teaser video has now become a reality. And it has a lot of photographers excited.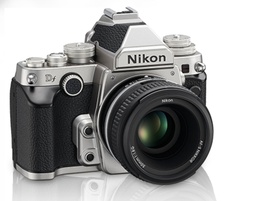 Basic features include:
Full frame 16MP sensor
Dedicated mechanical dials for shutter speed, ISO, exposure compensation, exposure mode, and release mode
Mechanical cable release compatible
39-point AF with 9 cross sensors
Compatible with AF-S, AF-D, and AD Nikkor lenses
The Df will be available in silver and black, probably around the end of this month. It looks awesome. The Df has that throwback styling that made the original OM-D so alluring. It even has the "slide over" eyecup shade for long exposures. If you want one for yourself, it will cost you $2,996.95 with 50mm lens. I talk about the possible impact of this camera in today's top story.
Story #2 - In today's Nimbleosity Report, I take a closer look at the Olympus Stylus 1 . It looks like a baby OM-D E-M5, but with a powerful and bright zoom lens. Here are the highlight features:
12MP 1/1.7" sensor (similar in size to the XZ-2)
1.44M dot electronic viewfinder
1 million dot 3" tilting touchscreen LCD
28-300mm equivalent (10.7x) optically-stabilized f/2.8 lens (constant aperture through entire zooming range)
Built-in Wi-Fi with smartphone control
RAW capture as well as Jpeg
Magnesium alloy body structure
Built-in pop-up flash
Same battery as the Olympus OM-D
Should sell for around $699
This looks like a heck of an all-in-one camera to me. Love the constant aperture and zooming range. Lots of enthusiast features in a very nimble package (14 ounces). This little gem will set you back $699 US. Is it worth it? I'll talk about that.
Story #3 - From the Photo Help Desk - Should you pay the extra dollars for high-end multi-coated filters when others are available at a fraction of the price?
Now is the time to order your SizzlPix for the holidays!
New Ad tiles on TDS. If you're going to purchase from Amazon of B%H Photo, please click on the respective ad tile for those suppliers, located in the second column on every page of TheDigitalStory.com.
And don't forget, I have an Aperture Workshop coming up on Nov. 16 and 17. Write me at derrick@thedigitalstory.com for more details.
Listen to the Podcast
In addition to subscribing in iTunes, you can also download the podcast file here (34 minutes). You can support this podcast by purchasing the TDS iPhone App for only $2.99 from the Apple App Store.
Monthly Photo Assignment
The November 2013 photo assignment is "Critters."
More Ways to Participate
Want to share photos and talk with other members in our virtual camera club? Check out our Flickr Public Group. And from those images, I choose the TDS Member Photo of the Day.
---
iPad for Digital Photographers
If you love mobile photography like I do, then you'll enjoy iPad for Digital Photographers
-- now available in print, Kindle, and iBooks versions.
Podcast Sponsors
Red River Paper -- Keep up with the world of inkjet printing, and win free paper, by liking Red River Paper on Facebook.
Make Your Photos Sizzle with Color! -- SizzlPix is like High Definition TV for your photography.
Need a New Photo Bag? Check out the Lowepro Specialty Store on The Digital Story and use discount code LP20 to save 20% at check out.
Want to Comment on this Post?
You can share your thoughts at the TDS Facebook page, where I'll post this story for discussion.