This week on The Digital Story photography podcast: Camera battle: iPad Air vs. iPhone 5S; On the Nimbleosity Report - New Goodies to delight you; From the Photo Help Desk - Taking control of exposure. All of this and more on today's show with Derrick Story.
Story #1 - Camera Battle: The iPad Air vs iPhone 5S - Apple's latest full sized tablet is a technological marvel. Among its many features, it includes a built-in iSight camera. How does it compare to the iPhone 5S? Before answering that, let's take a look at its feature highlights:
Weighs in at just one pound (28 percent lighter)
Super thin - Can apparently hide behind a pencil
9.7 inch display with 2048-by-1536 resolution and over 3.1 million pixels
A7 chip featuring 64-bit architecture with an M7 coprocessor (M standing for motion)
10-hour battery life
Improved WiFi with two antennas and MIMO (multiple-input multiple-output) technology
Dual microphones
5-megapixel iSight camera
So, now, what about that 5 MP camera? How does it compare to the 8 MP version in the iPhone 5S. I cover that in the first story. (Thanks to Allyson Kazmucha at iMore for publishing the article, iPad Air vs iPhone 5s: iSight and FaceTime camera shootout!. It helped me with my research for this post.)
Story #2 - The Nimbleosity Report: Have you been enjoying the daily Journal entries?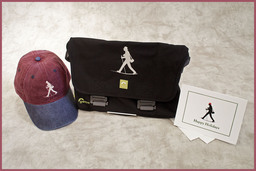 Plus, I've added a new hat to the store featuring beautiful Port and Beigh colors. But the real gems are the new Gift Sets: The Gift Set in Port features the new cap, Walking Man Shoulder Bag, two fine art Holiday greeting cards, and gift bag. All you have to do is sign one of the holiday cards, and you have an excellent gift for the Nimble Photographer or traveler in your life. And the best part is... the price is only $49.95. (We also have a Navy Gift Set with the original Walking Man cap.)
Story #3 - From the Photo Help Desk: what tips to you have to help me take more control over exposure?
Exposure lock
Exposure compensation
Manual exposure
I cover all three in today's third story.
Listen to the Podcast
In addition to subscribing in iTunes, you can also download the podcast file here (33 minutes). You can support this podcast by purchasing the TDS iPhone App for only $2.99 from the Apple App Store.
Monthly Photo Assignment
The November 2013 photo assignment is "Critters."
More Ways to Participate
Want to share photos and talk with other members in our virtual camera club? Check out our Flickr Public Group. And from those images, I choose the TDS Member Photo of the Day.
---
iPad for Digital Photographers
If you love mobile photography like I do, then you'll enjoy iPad for Digital Photographers
-- now available in print, Kindle, and iBooks versions.
Podcast Sponsors
Red River Paper -- Keep up with the world of inkjet printing, and win free paper, by liking Red River Paper on Facebook.
Make Your Photos Sizzle with Color! -- SizzlPix is like High Definition TV for your photography.
Want to Comment on this Post?
You can share your thoughts at the TDS Facebook page, where I'll post this story for discussion.