This week on The Digital Story photography podcast: Is the iPad mini Retina worthy for photographers? On the Nimbleosity Report - A week with the Lollipod ultralight accessory stand.; From the Photo Help Desk - Are soft backgrounds possible with micro four thirds cameras? All of this and more on today's show with Derrick Story.
Story #1 - Is the new iPad mini worthy for photographers? The much anticipated Retina display mini is now available. It sports a brand new display weighing in at 2048x1536 resolution at 326ppi. But it seems to generating its share doubts from the photography community. Starting with reports of possible burn-in on some models, to criticism about its more narrow color gamut.
I've tested a brand new iPad mini with Retina display against the original iPad mini, an iPad 3, and iPhone 5S. Here's the way things stack up.
The new iPad mini screen is brighter, sharper, and has better contrast than the original iPad mini.
Compared to the iPad 3 and the iPhone 5S, the new mini has less saturated colors, especially the reds and purples.
The color temperature for the new iPad mini is more pleasing to my eye than the original iPad mini, and to a small degree, the iPad 3.
I haven't been able to test the new iPad mini against the iPad Air. Reports are that the color gamut displayed by the Air is better than the new iPad mini. I would tend to believe this because the iPad 3 has a broader gamut too.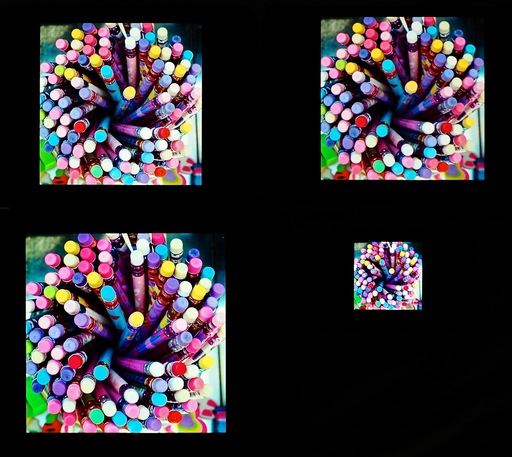 Upper Left: iPad mini with Retina Display; Upper Right: iPad mini; Lower Left: iPad 3 with Retina Display; Lower Right: iPhone 5S with Retina Display.
So, is the iPad mini with Retina Display a worthwhile investment for photographers? I delve into the details in the first segment of today's show.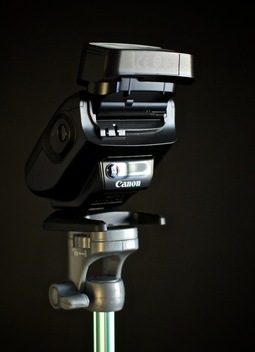 Story #2 - The Nimbleosity Report: A week with the Lollipod ultralight accessory stand. In short, I really like this little guy. I've used it for a variety of tasks including camera stabilization, wireless flash, and even as a microphone stand. And, it only weighs 320 grams total weight and is 320 mm long when folded (12.5")
Story #3 - Are soft backgrounds possible with micro four thirds cameras? In short, yes . And I explain how in the third segment of today's show.
Photo Assignment for November is Critters.
SizzlPix! Holiday Special!
For The Digital Story Virtual Camera Club members ... If you'd like additional copies of for gifts, or SizzlPix! of any other of your images to make spectacular, amazing holiday gifts, order any two SizzlPix! to be shipped together, and we'll give you 25 percent off on the second one! Order any size up to a mind-boggling 48 by 72" Imagine -- six feet! and no sacrifice in resolution, luminance, and impact. Just put "TDS" in the comments space on the sizzlpix.com order page. Of course, you may apply the discount to any number of pairs. And free shipping to any US mainland address.
BTW: If you're ordering through B&H or Amazon, please click on the respective ad tile under the Products header in the box half way down the 2nd column on thedigitalstory.com. That helps support the site.
Listen to the Podcast
In addition to subscribing in iTunes, you can also download the podcast file here (31 minutes). You can support this podcast by purchasing the TDS iPhone App for only $2.99 from the Apple App Store.
Monthly Photo Assignment
The November 2013 photo assignment is "Critters."
More Ways to Participate
Want to share photos and talk with other members in our virtual camera club? Check out our Flickr Public Group. And from those images, I choose the TDS Member Photo of the Day.
---
iPad for Digital Photographers
If you love mobile photography like I do, then you'll enjoy iPad for Digital Photographers
-- now available in print, Kindle, and iBooks versions.
Podcast Sponsors
Red River Paper -- Keep up with the world of inkjet printing, and win free paper, by liking Red River Paper on Facebook.
Make Your Photos Sizzle with Color! -- SizzlPix is like High Definition TV for your photography.
Want to Comment on this Post?
You can share your thoughts at the TDS Facebook page, where I'll post this story for discussion.