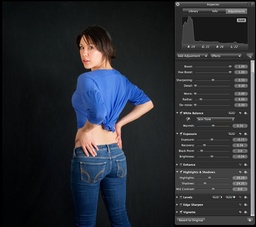 We knew it was coming; just not sure when. Digital Camera RAW Compatibility Update 5.02 adds Raw processing for five cameras - all of them important: Nikon D5300, Nikon Df, Olympus OM-D E-M1, Sony Alpha 7, and Sony Alpha 7R.
My approach while waiting for such updates is to shoot Raw+Jpeg with a new camera. I upload both to Aperture, and work with the Jpegs until the new Raw processing is available. I keep the two formats in separate albums. Until the Raw processing is available, my thumbnails for the unsupported files look like this.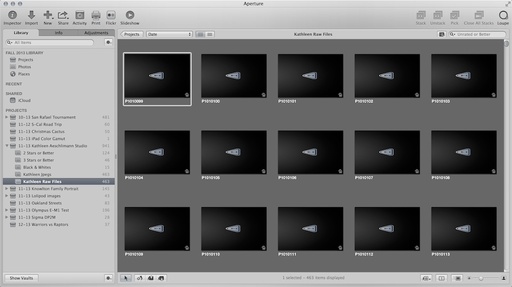 Once the update is applied, I go to the Adjustments tab in the Inspector, and click on any thumbnail. Aperture will process the file and present me with an image. I can use the right and left arrow keys to move through the images quickly and display the updates.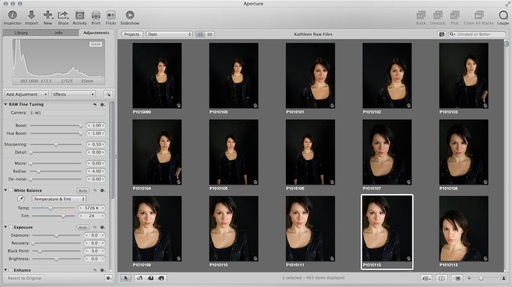 As for the Raw processing itself, it seemed very good for my OM-D E-M1 files. Initial previews looked spot on, highlight and shadow recovery was smooth, color was pleasing, and all controls behaved as I would anticipate.
If you're a Mac OS X Mavericks user, the update should be applied automatically. If not, you can download it here.
Aperture Tips and Techniques
To learn more about Aperture, check out my Aperture 3.3 Essential Training (2012) on lynda.com. Also, take a look at our Aperture 3 Learning Center. Tons of free content about how to get the most out of Aperture.
---
The Digital Story on Facebook -- discussion, outstanding images from the TDS community, and inside information. Join our celebration of great photography!
---