The engineers at Flickr have been busy elves this season, and one of their latest goodies is the overhauled "embed" option for your photos. This is part of the new "photo experience" that's in beta. Unfortunately, for some sites, such as my Movabletype blog, it doesn't work.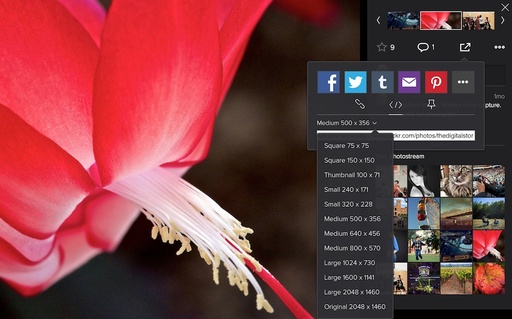 To get to this option while viewing your photo (in the new experience), click on the Share icon, then click on the Embed graphic. You'll be presented with a variety of sizes as shown above.
Flickr cites in their blog post on the topic, "your photos and videos are displayed with their full title and your Flickr name, embed feature is only available for publicly shared photos, and embeds are contextual and interactive."
My advice is to sit tight for a bit and let them work out the bugs in the new code. In the meantime, you can opt-out of the new experience and use the old embed code.
---
Flickr Essential Training 2013 - I explore the entire Flickr universe, mobile and computer, in my lynda.com title, Flickr Essential Training. Stop by and take a look.
Want to Comment on this Post?
You can share your thoughts at the TDS Facebook page, where I'll post this story for discussion.