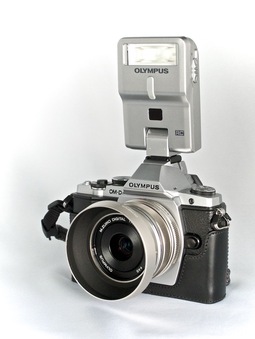 When you see the Olympus FL-300R compact flash on a catalog page, it looks very tempting - especially for th modest $139 investment (modest in the world of flash photography). But does this wireless unit perform? I decided to put it through its paces with an Olympus OM-D E-M5 and E-M1.
Things I Liked
Very compact and light. Uses 2 AAA batteries
Tilts back for bounce flash and forward for macro
Wireless capability with 2 channels
Built-in diffuser panel that's effective
Flash folds forward to stay out of the way when not in use
Easy to operate
Comes with protective pouch and off-camera stand
Things I Didn't Like as Much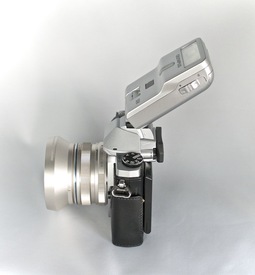 Can't use EVF in bounce position. Must use LCD for composition
Only angles 60 degrees backwards, instead of full 90 degrees
Flash can only be fired 10 times in succession at intervals of 6 seconds
The FL-300R On Camera
I liked that the flash slides directly into the hot shoe and doesn't require you to reveal the Accessory Port. I used Philips MultiLife 1000mah rechargeable AAA batteries to power the unit. The flash was ready for action just a few seconds after pushing the On/Off button, and it recharged quickly between firings.
Exposures were good on both the E-M5 and E-M1. I discovered that what is advertised as a Wide Panel (its switch is on the side of the FL-300R) is also an excellent built-in diffuser. When enabled, it lowered the contrast and softened shadows. I especially recommend it when working close to subjects. When in bounce position, however, don't use the wide panel setting because it does cut output a bit.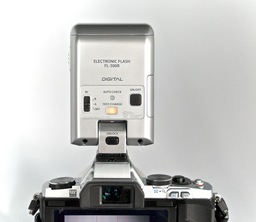 The FL-300R Off Camera
Even though the FL-300R is definitely an upgrade from the accessory popup flash that comes with the OM-D, don't toss it out. You'll need the pop-up to serve as the wireless controller for the FL-300R.
Once the popup is in place and the camera is fired up, all you have to do is move the RC switch on the back of the FL-300R to "A" and enable RC Mode in Menu 2 on the camera. Wireless performance was quite good, and it adds another dimension to your flash photography options.
You can hold the flash in your hand for on-the-go off-camera flash. Or you can use the supplied stand to position it on a table or shelf. The stand includes a threaded socket, so it can serve as an adapter for a light stand or tripod too.
The Final Word
Because of its capabilities and compact size, I do recommend the Olympus FL-300R Compact Flash for casual flash photography. It's not powerful enough for serious event coverage, but when you need to cobble together a quick lighting setup for a portrait or family gathering, you'll be happy to have this compact unit in your bag.
---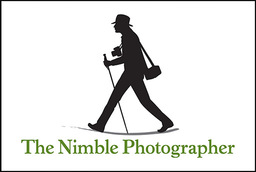 This product has a high Nimbleosity Rating. What does that mean? You can learn about Nimbleosity and more by visiting TheNimblePhotographer.com.
Want to Comment on this Post?
You can share your thoughts at the TDS Facebook page, where I'll post this story for discussion.