Not only can you retouch your people shots in Aperture... it's easy. In my latest article for Macworld Magazine titled, Portrait retouching in five easy steps, I explain how to not only work artistically, but quickly too.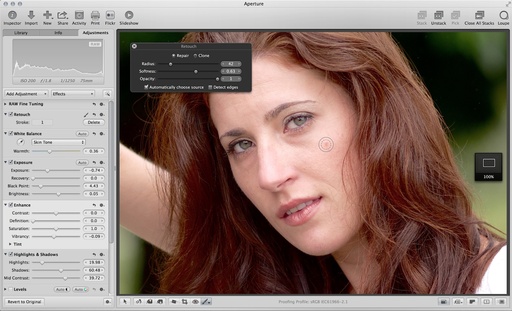 If you like the techniques outlined in the article, then you may want to watch my lynda.com training video, Portrait Retouching with Aperture. It's a deeper dive into using these tools to make your subjects look like they had the best day ever when you photographed them.
Aperture Tips and Techniques
To learn more about Aperture, check out my Aperture 3.3 Essential Training (2012) on lynda.com. Also, take a look at our Aperture 3 Learning Center. Tons of free content about how to get the most out of Aperture.
---
The Digital Story on Facebook -- discussion, outstanding images from the TDS community, and inside information. Join our celebration of great photography!
---