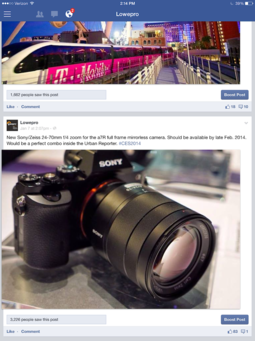 Built-in camera WiFi has evolved from novelty to useful.
Two factors have improved this experience. First, cameras are able to establish their own hotspots and not depend on an existing WiFi networks. This provides much more flexibility. And second, companion apps that run on mobile devices now interact more smoothly with the cameras and provide a variety of functions.
In my latest Macworld Magazine article, How to use Wi-Fi for an expert photo workflow, I detail the workflow I used to cover CES in Las Vegas, using the Olympus OM-D E-M1 and Canon 70D with their respective iOS apps running on an iPhone 5S and iPad mini with Retina Display.
A few years ago, I would gather information and photos during the day, then go back to my hotel room at night to process and publish. Now, the expectation is to publish over the course of the day. Camera WiFi and improved mobile hardware and software make realtime reporting feasible.
Show organizers and cellular providers also helped our cause by improving the networks at the Las Vegas Convention Center. As a result, I was able to shoot, edit, and publish at the event.
If you find this stuff interesting, then take a look at How to use Wi-Fi for an expert photo workflow and see what you think.
---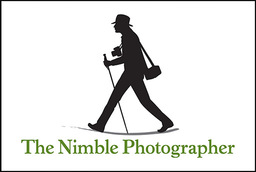 This workflow has a high Nimbleosity Rating. What does that mean? You can learn about Nimbleosity and more by visiting TheNimblePhotographer.com.
Want to Comment on this Post?
You can share your thoughts at the TDS Facebook page, where I'll post this story for discussion.