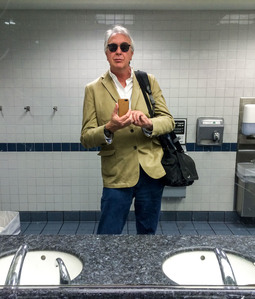 The Nimble Photographer is back from Las Vegas and the Consumer Electronics Show. No more public restrooms, crowded restaurants, or smoky casinos (at least for now...).
I discussed this assignment in The Nimble Photographer Journal with entries including Las Vegas and Assignment Gear. So how did it all work out? Quite well, actually.
I carried the Lowepro Urban Reporter 150 (shown in the picture) with me all day, everyday. I relied primarily on the Olympus OM-D E-M1 with the Panasonic 12-35mm f/2.8 zoom for my picture work.
If I went out for a stroll and casual shooting in the evening, I switched to the lighter Walking Man Shoulder Bag that's easier on my back and more discreet.
The images were transferred to either my iPad mini (with Verizon cellular) or the iPhone 5S (with AT&T cellular) depending on which device was getting the best reception. I used the WiFi capability of the E-M1 to copy images directly from the camera to the mobile devices that were running the Olympus O.I. Share iOS app.
If there was time, I would fine-tune the pictures using Snapseed or iPhoto for iOS before pushing them up to the c't Digital Photography Facebook page, The Digital Story or the Lowepro social site.
The organizers at CES made reporting a bit easier by beefing up the cellular networks at the Las Vegas Convention Center. This was much appreciated. It allowed me to post 3-4 times a day on the various sites while still on location.
For my luggage, I used the eBags Mother Lode TLS Weekender Convertible along with the Urban Reporter. Why don't I use a roller? They're too cumbersome when you're in nimble mode.
For example, I checked out of my room yesterday morning and had to bring my luggage on assignment at the Convention Center. I then caught a cab from CES to the airport. I can wear the eBag on my back during all of this moving around. (I actually have the eBag on too in the above photo.) A roller just wouldn't work.
Now that I'm home, I'm definitely tired. But my gear worked flawlessly while I was on the road. And my clients seem happy with the timely reporting from Las Vegas.
---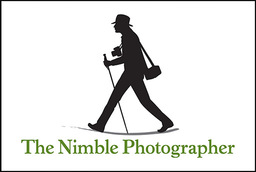 This gear has a high Nimbleosity Rating. What does that mean? You can learn about Nimbleosity and more by visiting TheNimblePhotographer.com.