The choice between speed and storage is a tough one for photographers. When I bought my stock MacBook Pro with Retina Display in mid-2012, I wanted speed. So I've had to learn to live with 256 GBs of built-in storage for my daily work.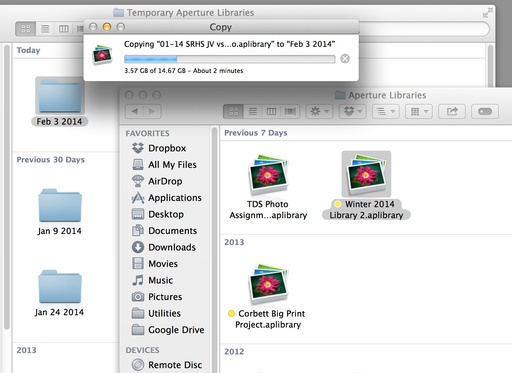 Copying libraries from my MacBook Pro to the Drobo 5D.
How do I do it?
I rely on Aperture's excellent Project/Library management structure. I only store my current projects on the MacBook Pro at any given time. That initial phase is when I'm image editing, which is when I need the best performance.
Once the project has reached a mature state, I move it off the laptop and integrate it into the master library on the Drobo 5D. If I need to work on those images at a later time, I simply connect the Thunderbolt cable from the Drobo, and open the library enabling me to touch-up a photo then export it for publishing.
I keep a separate portable hard drive in my laptop bag. It contains a library of images from the last year, just in case I need to grab something while on the go.
Using this system, I have survived with my internal 256 GB Flash drive for almost 2 years. I couldn't have done it without Aperture's versatile library management system and a Thunderbolt external drive.
The good news is that I should be able to afford a bigger internal drive with my next MacBook Pro. But I'll continue to use the same system... just with a bit more breathing room.
Aperture Tips and Techniques
To learn more about how to manage your projects and libraries in Aperture, check out my Aperture 3.3 Essential Training (2012) on lynda.com. Also, take a look at our Aperture 3 Learning Center. Tons of free content about how to get the most out of Aperture.
---
The Digital Story on Facebook -- discussion, outstanding images from the TDS community, and inside information. Join our celebration of great photography!
---