One of the reasons why I often shoot RAW+Jpeg is to take advantage of in-camera effects or film simulation modes. The images with effects are saved as Jpegs. The master files are in the RAW format. By capturing those RAW files too, I have fully editable images to further experiment with further if I wish, especially if I don't like the way the Jpegs turned out.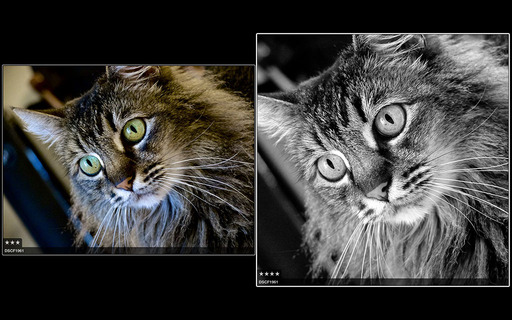 Both images captured at the same time with a Fujifilm X20 compact camera. Picture on the left is the RAW file, and on the right is a B&W recorded using Fujifilm's Film Simulation mode. By shooting RAW+Jpeg, I get both files. Photos by Derrick Story.
When it's time to upload these files to Aperture, I choose "Both - Separate Originals" for my RAW+Jpeg pairs. I *do not* recommend using the other Pairs settings because the files get linked together. This proves to be a problem up the road.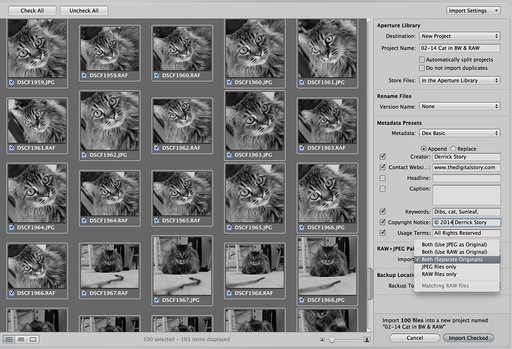 Import as "Both - Separate Originals". Don't be fooled that the RAW files are B&W at this point. Aperture is just reading the embedded Jpegs.
Once the files are in my Aperture library, I select Auto Stack (Stacks > Auto Stack) and set the timing to 0:01. This creates a pairing for each of my compositions - one Jpeg with one Raw.
If I want to tidy up the library, I can Close All Stacks (Stacks > Close All Stacks), and I only see one version of each pair. You even have control over which version by using the Pick command.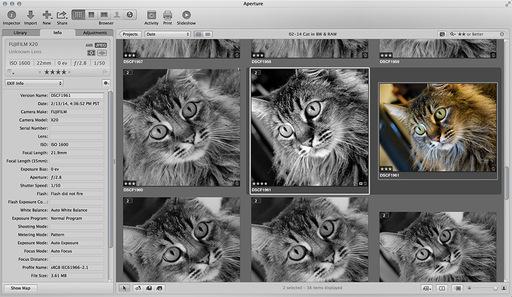 Jpegs and RAWs now side by side in Stack mode.
By using this technique, I'm more willing to experiment with the interesting effects included in my camera because I will always have the RAW file too. Use this technique to explore the unique features of your camera.
Aperture Tips and Techniques
To learn more about Aperture, check out my Aperture 3.3 Essential Training (2012) on lynda.com. Also, take a look at our Aperture 3 Learning Center. Tons of free content about how to get the most out of Aperture.
---
The Digital Story on Facebook -- discussion, outstanding images from the TDS community, and inside information. Join our celebration of great photography!
---