I like custom icons for my internal and external hard drives. They make it easy to quickly identify which is which on my desktop.
The problem is, that when you reformat a hard drive, your custom icon will be replaced with a generic version. Not only are the generics not as attractive, but there's no visual distinction among the various units.
Fortunately, it's easy to preserve your custom icon. Before you reformat the drive, use the Get Info command (CMD-I). In the upper left corner, you'll see the icon for your hard drive. Click on it once to highlight it, the go to Edit>Copy to save it to the clipboard.
Go ahead and reformat the drive as normal. (Make sure it's backed-up first!) Then use the Get Info command again, click on the generic drive icon, and choose Paste. You'll have your custom icon once again.
If you want to save your custom hard drive icons for future use, Open Preview (the app) and choose File>New from Clipboard. The entire family of icons will be pasted and you can save them as an .icns file. That way you'll never lose them.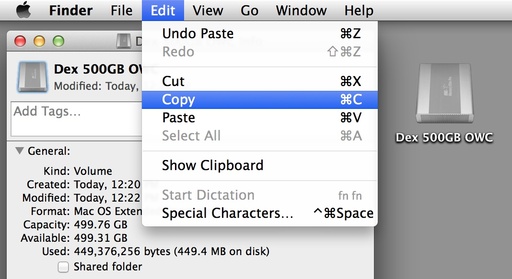 Want to Comment on this Post?
You can share your thoughts at the TDS Facebook page, where I'll post this story for discussion.