No photo library is complete without old, color-shifted family portraits. You can breath some life into these pictures by using the image editing tools in Aperture.

That's me sitting on the couch with a camera. My sister looks pretty bored, and my Mom doesn't seem to be in a portrait mood.
Here are the basic steps I follow to work on an old photo: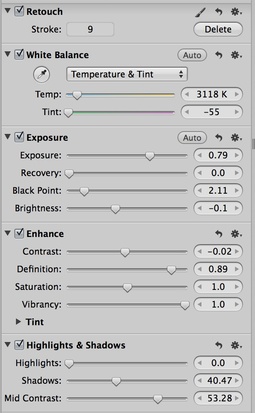 Remove Cast with Temperature and Tint - I use the eye dropper in the White Balance brick and click on a neutral area with Temperature and Tint selected. This helps remove some of the color cast.
Improve Contrast - using the Exposure brick along with the Highlights & Shadows brick, I work on the exposure. I find the Mid Contrast slider very helpful with old photos.
Add Vibrancy - Once you've pulled the colors and exposure into a better place, restore some of the life with the Vibrancy slider. It will protect skin tones much better than the Saturation control.
Attack Shadow Noise - These adjustments will almost always increase noise in the shadows. I use the Skin Smoothing brush on noisy areas. It works great.
Tone Down Pesky Remaining Color Shifts - If you still have more color shift than you want, try using the Color brick and selecting an area with the eyedropper. Then you can adjust the hue and bump up the brightness. This is a nice finishing touch for color work.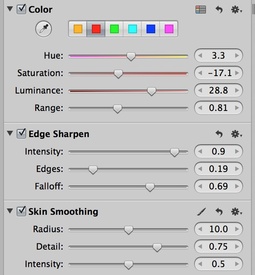 Fix Blotches with the Retouch Brush - Weird spots seem to appear during this recovery process. Use the Retouch brush to knock down those imperfections.
Increase Definition and Sharpness - The Definition slider is an excellent helper with old photos. I usually move the slider pretty far to the right, then add some Edge Sharpening too.
Your old photo is still going to look its age. That's OK. But by experimenting with these tools, you can wash away some of the years, improving the appearance of your historical document.
Aperture Tips and Techniques
To learn more about using these tools in Aperture, check out my Aperture 3.3 Essential Training (2012) on lynda.com. Also, take a look at our Aperture 3 Learning Center. Tons of free content about how to get the most out of Aperture.
---
The Digital Story on Facebook -- discussion, outstanding images from the TDS community, and inside information. Join our celebration of great photography!
---