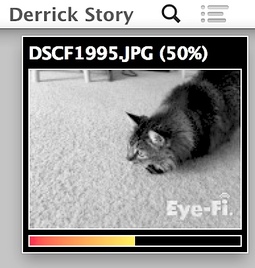 The Eye-Fi Mobi is already one of my favorite WiFi-enabled memory cards. With the recent addition of Desktop Receiver, it's become even more interesting.
Versions of the beta software are available for both Mac and Windows platforms. When enabled, you computer goes into "listening mode," on the lookout for images available from the Mobi card. If you take a picture, the file is transferred to a folder.
In my tests with the Fujifilm X20 compact, which doesn't have built-in WiFi, the process worked smoothly. I shot Raw+Jpeg. The Jpegs were copied to my Mac and the Raws remained intact in the camera.
One thing to keep in mind about the beta software: if you also use the Mobi card to send images to your mobile device, be sure to exit the software on your computer first. My experience was that the iPad couldn't recognize the Mobi when Desktop Receiver was active.
You can download the beta software for free from the Eye-Fi Labs site. There's also a handy FAQ there that handles the most common questions.
For me, this capability will be handy for blogging. I can shoot a subject and have it appear immediately on my computer for posting. What about you? If you have an Eye-Fi Mobi, give this software a spin and see where it takes you.
---
Join me on my Instagram site as I explore the world of mobile photography. And now Instagram features 15-second movies too.
Want to Comment on this Post?
You can share your thoughts at the TDS Facebook page, where I'll post this story for discussion.