One technique that I learned from Ansel Adams was the way he managed darks and lights. Sometimes he would build the picture around a very dramatic shadow or highlight, and other times he would layer those tones like pastry chef layers a cake.
Ever since those days of studying his work, I keep an eye peeled for strong dark or light areas to build my compositions around. I feel like they help me avoid the flat "postcard look" that happens when the tones are too even.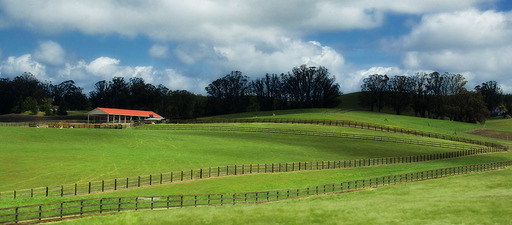 First, I wanted to use that horizontal line of dark trees to anchor the composition. Then take advantage of the darks and lights created by the clouds in the sky. Photo by Derrick Story.
Once you find an element to build your composition around, the camera will probably accentuate it more than your eyes are seeing. Plus keep in mind that you can further play with it in post production to really bring out the darks and lights.
This is easier with morning and afternoon light, because it's directional. Midday scenics are going to be flat, pretty much no matter what you do, unless you're in a situation where the high position of the sun is creating shadows from trees. And even then it's a difficult task to make that look flattering.
Keep this technique in mind the next time you're out shooting landscape. Look for those layers of darks and lights to build your composition around.
Want to Comment on this Post?
You can share your thoughts at the TDS Facebook page, where I'll post this story for discussion.
---
Join me on my Instagram site as I explore the world of mobile photography. And now Instagram features 15-second movies too.