Lightroom 5.4 is required to sync with Mobile Lightroom on the iPad. But there's a lot more to this release than that.
For starters, the update adds Raw support for 18 new cameras, including the Olympus OM-D E-M10, Canon PowerShot G1 X Mark II, Fujifilm X-T1, Nikon D4S, and the Samsung NX30... just a name a few. For those of us shooting with the E-M10, Lightroom 5.4 is the first mainstream photo management app to support this camera.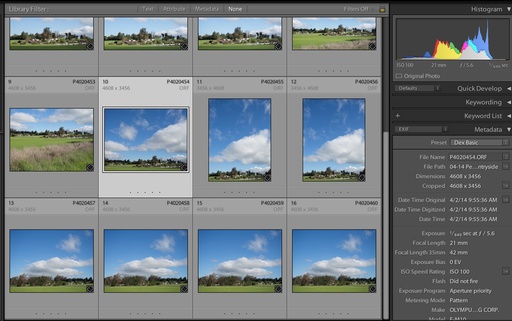 Olympus E-M10 Raw files decoded in Lightroom 5.4.
But there's more. Fujifilm shooters will appreciate the new Camera Matching Color Profiles (PROVIA/STANDARD, Velvia/VIVID, ASTIA/SOFT, MONOCHROME, etc.) for basically all of their current releases. Being able to apply these profiles in post is a nice convenience.
There's also a bucket full of new lens profiles, such as the Canon EF 200-400mm f/4 L IS USM, Sigma 24-105mm f/4 DG OS HSM, GoPro Hero3+ Black Edition, Zeiss Otus 1.4/55 ZF.2, and even the Apple 5c. Again, just to name a few.
Add in the bug fixes, and this is a major release of Lightroom from Adobe. Practically something for everyone.
---
Join me on my Instagram site as I explore the world of mobile photography. And now Instagram features 15-second movies too.
Want to Comment on this Post?
You can share your thoughts at the TDS Facebook page, where I'll post this story for discussion.