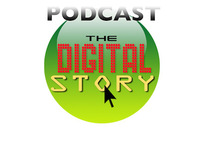 This week on The Digital Story photography podcast: Leica's Solid Aluminum T Mirrorless Camera; Top 5 Shooting Tips for Compelling Photos; TDS Site Refresh; and the latest SizzlPix Pick of the Month Winners - All of this and more on today's show with Derrick Story.
Story #1 - The Weekly Update: The top story this week is the Leica T mirrorless camera. "It features a 16MP APS-C sensor. Two lenses - an 18-56mm F3.5-5.6 and a 35mm equivalent 23mm F2 prime have been announced alongside the camera. The camera is milled from a solid billet of aluminum and features a touch screen that the company says uses a user-friendly operating concept. The camera body (available in black or silver) is priced at $1,850. The 18-56mm zoom costs $1,750, while the 23mm F2 prime will set you back $1950. The optical viewfinder has an MSRP of $595." (Source DP Review)
In other news, Fuji will Release a 16mm f/1.4 by the End of 2014. "The mysterious "High Speed Wide Angle Lens" on Fuji's lens roadmap is apparently going to be a 16mm f/1.4 -- no ifs, ands or buts about it." (Source: PetaPixel).
And finally, Panasonic GH4 Review on the Luminous Landscape. Michael Reichmann writes, "Am I getting one? In fact we're getting two, and likely a third as well, replacing our GH3 cameras which we use for all of our video productions. I also expect one of the GH4's to become my daily shooter for both stills and video, as well as serving as Chris' workhorses for video production. No, I'm not kissing goodby to my Olympus E-M1, but let's just say that for some purposes I'll be getting a lot cuddlier with the GH4."
Story #2 - Top 5 Shooting Tips. I've just finished a series of speaking engagements, and I thought I'd share the top 5 tips from those talks.
Use flash exposure compensation in tandem with regular exposure combination
Keep horizon lines very low, or very high
Shoot your night scenes at twilight
Introduce motion into your shots - moving lights, panning, and slow shutter speeds
Use darks and lights to add punch to your compositions
Story #3 - From the Screening Room - Colorizing Black-and-White Photographs using Photoshop with John Derry. John shows you how to take old B&W photos and apply his techniques for colorization. In a sense it's what Ted Turner did to many of our B&W classic movies.
You can watch John in action by visiting the TDS Screening Room at lynda.com/thedigitalstory. While you're there, you can start your 7 day free trial to watch other design, photography, and computing titles, plus every other topic in the library.
Story #4 - The TDS Site Design Refresh - We've integrated The Nimble Photographer, Photo Help Desk, Instagram, Flickr, and Facebook into a refreshed look for The Digital Story. Plus I've added a new My Gear page to the top nav bar. Here are some insights to how the new site works.
Virtual Camera Club News
New SizzlPix Winners! Congratulations to Mike Boening (Dec 2013 High ISO #93), Kyle Howard (Jan 2014 White # 94), and David Blanchard (Feb 2014 Smartphone #95). You are the latest class of SizzlPix Pick of the Month photographers.
Workshop News: I've sent out invites to the Reserve List for the Fall Color with Safari West Workshop, October 24-26, 2014. You can learn about them both, plus request a reservation form by visiting the TDS Workshops Page and using the "Send Me Info" box.
Photo Assignment for April 2014 is "Flower Power".
If you haven't done so already, please post a review for The Digital Story Podcast in iTunes.
BTW: If you're ordering through B&H or Amazon, please click on the respective ad tile under the Products header in the box half way down the 2nd column on thedigitalstory.com. That helps support the site.
Listen to the Podcast
In addition to subscribing in iTunes, you can also download the podcast file here (37 minutes). You can support this podcast by purchasing the TDS iPhone App for only $2.99 from the Apple App Store.
More Ways to Participate
Want to share photos and talk with other members in our virtual camera club? Check out our Flickr Public Group. And from those images, I choose the TDS Member Photo of the Day.
Podcast Sponsors
lynda.com - Learn lighting, portraiture, Photoshop skills, and more from expert-taught videos at lynda.com/thedigitalstory.
Red River Paper -- Keep up with the world of inkjet printing, and win free paper, by liking Red River Paper on Facebook.
SizzlPix! - High resolution output for your photography. You've never seen your imagery look so good. SizzlPix.com. SizzlPix! now is qualified for PayPal "Bill Me Later," No payments, No interest for up to 6 months, which means, have your SizzlPix! now, and pay nothing until August!
Want to Comment on this Post?
You can share your thoughts at the TDS Facebook page, where I'll post this story for discussion.