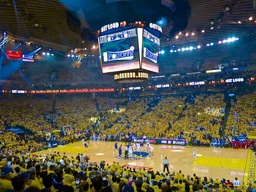 Job 1 as a spectator at a sporting event is to enjoy the game and support your team. But if it's an important event, such as an NBA playoff game, you may want to come away with some momentos too. As photographers, those souvenirs most likely will be pictures from the game.
Chances are, that unless you're packing a fast telephoto lens and have a media pass, you're probably not going to get a close-up of your favorite superstar. On the other hand, even with a compact camera, you can document the event in a way that will have value for you in the years to come.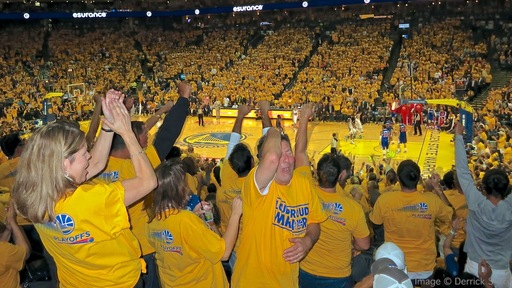 By combining fill-flash with nighttime scene mode, you can capture both the crowd and the ambience of the arena. Photos by Derrick Story.
I think the crowd is a big part of the story at these events. And I do have access to them since I'm sitting right in the middle of it all. So why not go with that and use the arena as a backdrop for fan shots?
My advice in these situations, is to go to "nighttime mode" in your camera's scene settings, then turn on the fill-flash. All of these images, for example, were captured with a Canon PowerShot S110 in "Handheld NightScene" mode. I typically set the exposure compensation to -2/3 to get a good balance of bright areas in the arena with the flash itself.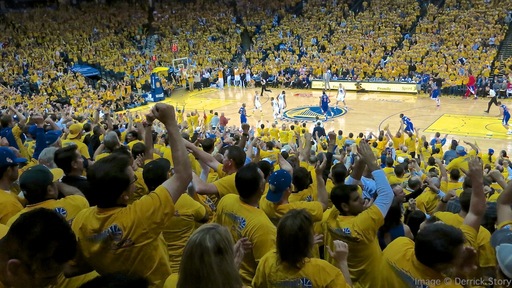 Same settings as above, except this time the fill flash is turned off.
As you can see in the shot above, the feeling is totally different when the fill-flash turned off. You may like it better, or not. But I think the non-fill-flash image doesn't have the vibrancy of the shot above it, where the flash is turned on.
Regardless of which approach you take, it's good to understand how both techniques work, so you can choose the one that's right for you and the situation.
Want to Comment on this Post?
You can share your thoughts at the TDS Facebook page, where I'll post this story for discussion.