Once you've enjoyed the speed of a solid state drive in your laptop, I doubt if you could ever return to spinning platters. So how do I manage my ginormous Aperture library with just 256 GBs on my laptop?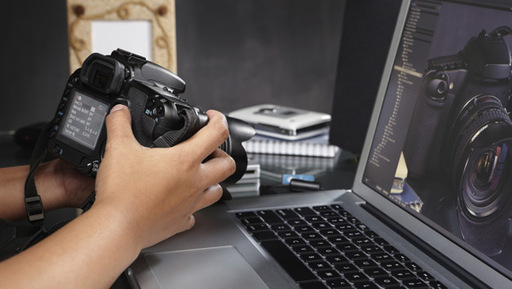 It's easier than you think. Thanks to the ability to merge and separate libraries with Aperture, I create a fresh library when I hit the road, then simply merge it into my master library on the Drobo when I return. I spell out the entire scenario in my latest lynda.com article, The Unlimited Laptop and Aperture.
If I want to bring a portion of the master library on the road with me, let's say all of my 2013 photos, I can use this technique to extract those images from the master collection and put it on a portable hard drive. I usually don't make changes to those past photos while traveling, but if I did, I could simply merge those files back into the master library when I'm back at the studio.
It's a great system that is easy to use and practically fool-proof. Check out The Unlimited Laptop and Aperture and see what you think.
Aperture Tips and Techniques
To learn more about Aperture, check out my Aperture 3.3 Essential Training (2012) on lynda.com. Also, take a look at our Aperture 3 Learning Center. Tons of free content about how to get the most out of Aperture.
---
The Digital Story on Facebook -- discussion, outstanding images from the TDS community, and inside information. Join our celebration of great photography!
---