Much in the way that a new lens can invigorate your passion for taking pictures, presets and plugins can do the same for working in Aperture. If you haven't explored this brave new world, I have a treat for you.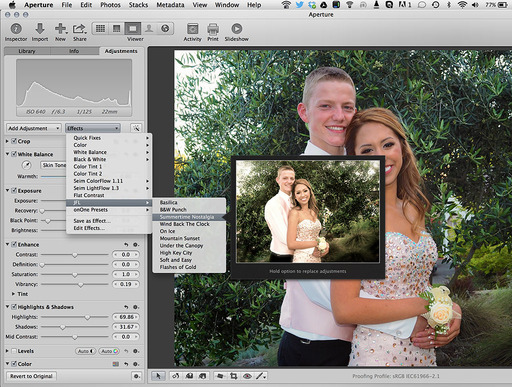 Presets are recipes that other photographers have created that use the existing tools in Aperture. Plugins are separate applications that work in concert with Aperture. I cover both in my latest article for lynda.com titled, Spicing Up Aperture with Plugins and Presets.
In terms of file management, presets are more friendly because you can try different looks for your pictures without adding megabytes to your library. Plugins, on the other hand, use largish Tiff files for the round trip from Aperture to the editing application. For that reason, I only use plugins for my favorite photos.
If you feel like your image editing life could use a pick-me-up, then read Spicing Up Aperture with Plugins and Presets and give a couple of these tools a try.
Personally, I love 'em. They've done a lot to keep me and Aperture together all these years.
Aperture Tips and Techniques
To learn more about Aperture, check out my Aperture 3.3 Essential Training (2012) on lynda.com. Also, take a look at our Aperture 3 Learning Center. Tons of free content about how to get the most out of Aperture.
---
The Digital Story on Facebook -- discussion, outstanding images from the TDS community, and inside information. Join our celebration of great photography!
---