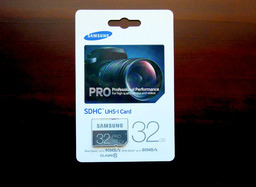 I've been testing the robust Samsung Pro SDHC UHS-1 memory card in all of my SD-compatible cameras. These cards are relatively new, and should become easier to find in the coming months. (Note, link here appears to be for the microSD version even though the SDHC model is shown in the picture.)
First and foremost, the Samsung cards tackle a big problem with SD memory: ruggedness. Their robust build inspires confidence. Samsung says these new SD cards are: "Built to Last: Waterproof, Temperature Proof, X-ray Proof and Magnetic Proof." In other words, your pictures should be safe.
The speed is good too. Read data up to 90MB/s and write up to 80MB/s. The Samsung cards are also rated UHS-1 (Ultra High Speed, a new technology that enables higher bus interface transfer rates) and Class 10.
Inside the card there's a top quality controller and original memory designed and manufactured by Samsung. So you don't have to worry about substandard components that are often found in off-brand memory cards.
As of this writing, I haven't been able to find this particular card at my normal retail outlets. But I suspect they will be surfacing soon. And when they do, you might want to give 'em a test. I'll be taking mine to Europe next month.
Want to Comment on this Post?
You can share your thoughts at the TDS Facebook page, where I'll post this story for discussion.