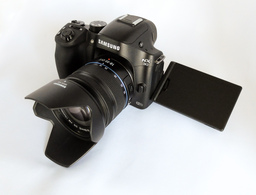 After a few weeks with the Samsung NX30, I have a pretty good feel for it. Over at c't Digital Photography, I posted my hands-on review.
To help me write that piece, I compiled a list of pros and cons that I'm sharing with you right now.
Pros
Large APS-C 20MP sensor that produces excellent RAW files and Jpegs.
Electronic viewfinder that can be angled upward for a variety of shooting positions.
Colorful 3" articulated LCD that's touchscreen capable.
Clever fn button on side of lens that provides easy access to common camera settings.
Excellent WiFi (with dedicated button) and NFC feature set for Android users.
Image-stabilized kit zoom lens.
Photoshop Lightroom 5 is included with the camera.
Cons
Feels large for a mirrorless camera, especially the kit 18-55mm lens.
Some hesitation in performance when working with RAW+Jpeg.
WiFi compatibility with iOS devices could be better.
Standalone battery charger sold separately as an accessory.
Mundane body styling.
I've handed the camera to many people to see how it felt. In general, those with larger hands thought it was comfortable, while others evaluated the grip to be a bit too deep. This leads to my bottom line: The Samsung NX30 is a camera that you need to test in person before purchasing. How it feels in your hands and responds to you commands will most likely determine its overall appeal.
Want to Comment on this Post?
You can share your thoughts at the TDS Facebook page, where I'll post this story for discussion.