Many Aperture users are feeling like they don't belong to the cool club anymore. While Adobe Lightroom 5 users enjoy annual full release updates, a mobile app, and faster turnaround for new camera RAW support, Aperture is still chugging along at version 3.
So the temptation to switch is natural. If you're thinking of moving your photo library to where the party is happening, then here's a brief list of things to consider.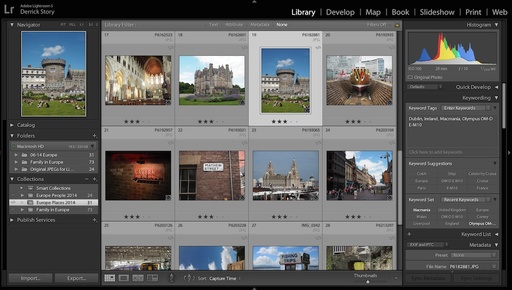 Lightroom 5.5 sports the latest image editing tools and is compatible with Mobile Lightroom for the iPad and iPhone.
Step 1 - Read my article Moving from Aperture to Lightroom on the lynda.com Article Center. I detail the various options available for moving content out of Aperture and in to Lightroom. All of the options involve a certain amount of work. Some are better than others.
Step 2 - If you're not pleased with the options for a complete relocation, take a look at the article, One Library Shared by Both Aperture and Lightroom that explains how to point both applications to the same set of master images.
With this approach, you still use Aperture as your main organizational tool (a function for which Aperture is superior), but still have access to Lightroom's Develop module and mobile app.
Step 3 - Evaluate the financial costs involved with a move. The best option for Lightroom is the $9.99 monthly Creative Cloud subscription that gets you Lightroom, Photoshop, and Mobile Lightroom. Currently, Aperture updates are free through the Mac App Store.
Step 4 - Identify the Lightroom tools that you want to use in Aperture. Then explore the plug-ins and presets available for Aperture. For example, I wish Aperture had gradient screens. But I have Color Efex and Perfect Effects plug-ins that give me that functionality while staying within the Aperture ecosystem.
Step 5 - Review your ties to the Apple ecosystem. If you're using the iPad, iPhone, Photo Stream, iPhoto, and looking forward to Mac OS X Yosemite, then you might want to evaluate Aperture's role in that ecosystem.
No move is easy, and switching to Lightroom definitely has its challenges. For some, the effort is well worth it. Just make sure you weigh the pros and cons before making the leap.
Aperture Tips and Techniques
To learn more about Aperture, check out my Aperture 3.3 Essential Training (2012) on lynda.com. Also, take a look at our Aperture 3 Learning Center. Tons of free content about how to get the most out of Aperture.
---
The Digital Story on Facebook -- discussion, outstanding images from the TDS community, and inside information. Join our celebration of great photography!
---