I'm the biggest fish of them all. And when I visit a tropical destination, I can't wait to jump in the water.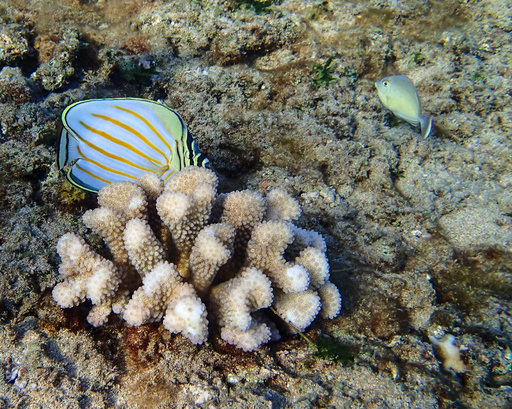 Shy Ornate Butterfly fish watching me behind coral - Photos by Derrick Story
I travel light: mask, fins, snorkel, and compact camera. But even with this simple set of tools, I can capture memorable photos and have a great time doing so. I just follow these five tips.
Go Early, But Wait for the Sun - I'm usually in the water by 7:30 AM. The swells tend to be calmer, there are far fewer people, and the fish are plentiful. If it's overcast, however, I usually wait for the sun to appear. Snorkeling without sunlight tends to yield dull pictures.
Learn How to Dive Downward - It's fun to troll the surface and watch the world below you. But when you see a fish you want to photograph, dive down a few feet to get a better angle. It takes a little practice, but it's worth it.
Get the Sun to Your Back - This age-old rule is far more important underwater than topside. It's a bit of effort to maneuver your body in the water to get the sun over your shoulder. But unless I'm going for an artistic approach, I like my fish portraits much better with this type of lighting.
Don't Touch Anything - The reef ecosystem should be treated with the utmost respect. Don't touch coral or wildlife. Watch your flippers so they don't accidentally brush against the landscape. Be aware of the current so you're not tossed against the rocks. Preserving this magical world ensures that generations to come will be able to enjoy it too.

Curious Sergeant Major fish stayed with me a while.

Use Focus Lock Before Shooting - If you just press the shutter button willy-nilly, you'll get a lot of sharp backgrounds with blurry fish. Compose your shot, focus on the eye if you can, press the shutter button half way to lock it in, then take the photo. Yes, fish move fast and you'll have a lot of misses. But the successes will thrill you.
My first priority is to be safe, protect the environment, have fun, and yes, hopefully capture some photos too. I wish the same great experiences for you.
Beautiful Unicorn fish just passing by.
Note: All photos were captured with an Olympus TG-1 Waterproof Camera and processed on an iPad mini using Lightroom Mobile. (I've yet to upload the masters to my MacBook Pro :-)
A big thanks to Dennis Adams, co-author of Step Zero II: Preparation for a SCUBA Live-Aboard Trip, for his advice over the years to help me improve my underwater photography. His tips have been very helpful.
Want to Comment on this Post?
You can share your thoughts at the TDS Facebook page, where I'll post this story for discussion.
---
Join me on my Instagram site as I explore the world of mobile photography. And now Instagram features 15-second movies too.