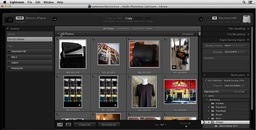 Not everyone wants a Creative Cloud membership. And since you can still purchase Lightroom as a standalone app, you don't need CC.
But what if you want to use Lightroom to help you manage your smartphone pictures? Lightroom Mobile only works with a Creative Cloud account.
No problem. Here's a workflow that doesn't require Creative Cloud, but does let you use Lightroom to help you organize, add metadata, and edit your mobile photos. It's part of my Managing Your Mobile Photos title on lynda.com. (But you don't have to sign up for that either to watch this movie :-) Check out Uploading pictures directly to Lightroom. It's a free movie on the title page (Chapter 5, movie 2 - Just scroll down a bit).
I'll be writing about Lightroom Mobile in the future. But for now, if you're a standalone app user, you might find this movie helpful.
---
More Help on Managing Your Mobile Photos
In my lynda.com title, Managing Your Mobile Photos, I cover a variety of backup solutions for both iOS and Android users. These tutorials will help you build the perfect backup solution for you, so that you never lose a single memory.