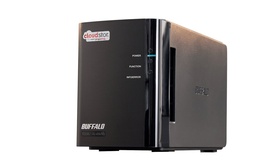 One of the many backup and sharing solutions that I use for my photography is Pogoplug's personal cloud software combined with a Buffalo CloudStor 2-Bay RAID hard drive ($206).
This system sets up at my studio, yet is accessible anywhere with an Internet connection via my laptop, iPad, or iPhone. The initial investment is just a couple hundred dollars, and there are no monthly fees. Plus, I have on-site RAID mirroring to protect me against hard drive failure.
In this movie produced by lynda.com, I show you how the Cloudstor system works. I demo communication with the networked RAID device located hundreds of miles away. This free movie is part of my training title, Managing Your Mobile Photos, where I cover a variety of backup solutions for both iOS and Android users.
If the embedded movie fails to play, you can watch it by clicking on this link: Taking a Look at Pogoplug.
I've been using the Pogoplug/Buffalo system for over two years, and I haven't had a single problem with it (knock on wood)!
Want to Comment on this Post?
You can share your thoughts at the TDS Facebook page, where I'll post this story for discussion.