At the moment, iPhoto is still the go-to picture management app for many snapshooters. And rightly so. You can organize, edit, and create cool output such as custom greeting cards featuring your own photography.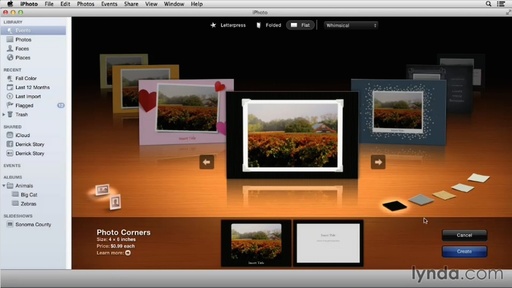 If you haven't tried making your own foldable artwork, take a look at my tutorial, Designing a Greeting Card from my title, Up and Running with iPhoto. This training is for those using the latest version of iPhoto with Mac OS X Mavericks.
Once you design your custom card in iPhoto, you can have it professionally printed in any quantity you want. But you also have the option of saving your design as a PDF and printing it with the inkjet you have sitting idle in your office.
Another handy tip is that these designs make terrific title and chapter openers for slideshows. Simply design your "greeting card" as a title slide and save it as a digital file. Then add it to your presentation along with the other images. It's easiest if you use the "flat" style of card design.
Regardless of how you like to use iPhoto, I think you'll find some useful tips in Up and Running with iPhoto.
Want to Comment on this Post?
You can share your thoughts at the TDS Facebook page, where I'll post this story for discussion.