When I decided to join Instagram, I wanted to be somewhere special. I made that decision two years ago, and the location was Maui.
Today, I've published my 500th Instagram post. I chose an image from my stay in Hawaii in August 2012. I selected a colorful sunset image with a sailboat and light reflecting on the water. For some reason, that picture radiates the good feelings I have about this project.
Instagram has had its share of controversy. But for me personally, it has helped me become a more creative photographer. Every day, I think about what would be a good post as I navigate my world at home, or while I'm on the road working. It keeps my gears turning.
I follow a lot of shooters on Instagram. Some depend on their celebrity status, others are beautiful and capture selfies as the mainstay of their feed. But a lot of people are like me too: photographers who love taking pictures for the pure joy of it. And we have a place to celebrate our passion. That's what hooked me.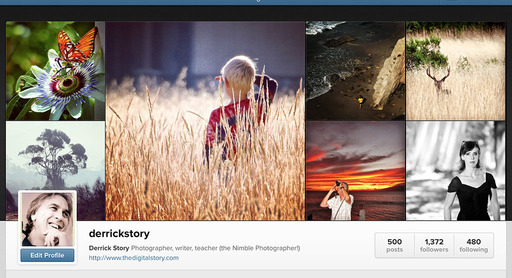 The images on this feed are different than my work as a photographer for hire. Assignments tend to have restrictions. I need to produce images that match a description. Even my publishing on The Digital Story is illustrative. I'm creating photos to describe a product or technique.
But when I press the shutter button for Instagram, it's just a picture. It could be anything in any style with any filter. It doesn't matter. Some images resonate and others don't. Like any photographer, I appreciate a "like." But I'm not thinking about that when I create the photograph. My thought is, "What can I do that's interesting?"
And that's why I love Instagram.
Want to Comment on this Post?
You can share your thoughts at the TDS Facebook page, where I'll post this story for discussion.
---
Join me on my Instagram site as I explore the world of mobile photography. And now Instagram features 15-second movies too.