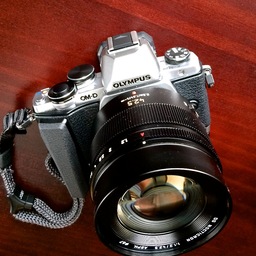 Early start to the day. I received a text message at 6:19 AM from my friend and Lumix Luminary Joseph Linaschke. He was heading north from the Sonoma Racetrack and wanted to see if I was available for a coffee meeting. He had a bag full of Panasonic gear with him.
You bet I was available.
After catching up for a bit, Joseph pulled out his Panasonic LUMIX G Leica DG Nocticron 42.5mm f/1.2 ASPH Power OIS lens. What a beauty!
I mounted the prime on my Olympus OM-D E-M10 and shot a few pictures. I wanted to test its "soft background" capability, so Joseph suggested we step outside for a quick portrait.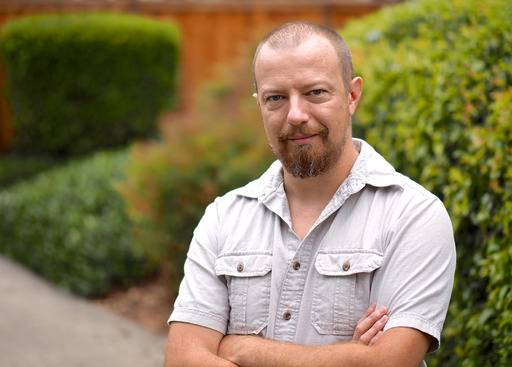 Joseph Linaschke with Panasonic 42.5mm prime lens on an OM-D E-M10: ISO 100, f/1.2, 1/500th. Photo by Derrick Story.
The lens was everything you'd expect from a premium optic. Focusing was swift and accurate. Design and build were outstanding. And image quality was top notch with beautiful softness in the background. Most photographers wouldn't expect these results from a Micro Four Thirds sensor. But yes, you can enjoy full frame quality from your compact Panasonic or Olympus body.
The Nocticron 42.5mm has a click-stop aperture ring near the front of the barrel, and a switch for optical image stabilization on the side. Olympus shooters can leave the aperture ring set to "A," because the OM-D firmware doesn't acknowledge the click stops. (They're still fun to play with, however!) But the optical stabilization does work if you prefer to use that over the sensor-based stabilization on the OM-D.
The nine circular diaphragm blades help create very smooth bokeh in the background. And the metal lens hood, which is very similar to the metal hood I have for the Olympus 75mm f/1.8, adds a nice finishing touch.
The Leica Nocticron 42.5mm f/1.2 lens is a dangerous lens to test. After about 3 minutes, you'll be checking your credit card limit to see if it can accommodate another $1,600.
Want to Comment on this Post?
You can share your thoughts at the TDS Facebook page, where I'll post this story for discussion.