For the July 2014 Photo Assignment, (Our 100th!!!) TDS shooters turned up the heat to produce these smoldering shots. See for yourself in our gallery, Smokin' Hot. And which one will be the SizzlPix Pick of the Month?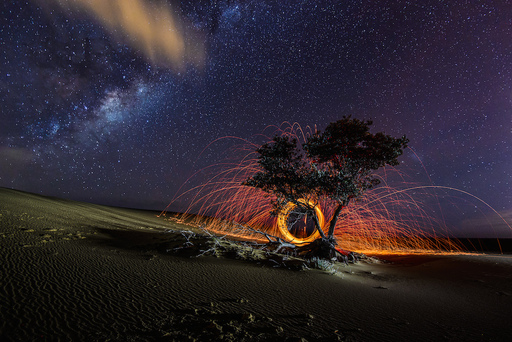 Photo by Rodney Campbell. Rodney writes, "This final image is actually a composite of two (along with near zero photoshopping skill). One 394-second long exposure shot at f/7.1 and ISO 100 - a little lighting of the dunes with low sculpted light from the far sides (most on the right and a touch of fill from the left), and a touch of white light on the tree, some red light torch shining up into the tree from below along with a burning steel wool spin behind. Combined with a 31 second shot wide open at f/4 and ISO 6400 to capture the stars in an almost clear sky (just a few whisps of clouds left)."
"Each of the two individual shots actually look pretty good - however even the 394-second (over six minutes) long exposure shot had essentially a black sky with a few trailing stars - but together they just give you more of everything good." See all of the great images from this month's assignment by visiting the Smokin' Hot.
---
Participate in This Month's Assignment
The September 2014 assignment is "Shot from Behind." Details can be found on the Member Participation page. Deadline is Sept. 30, 2014. No limit on image size submitted.
Please follow the instructions carefully for labeling the subject line of the email for your submission. It's easy to lose these in the pile of mail if not labeled correctly. For example, the subject line for this month's assignment should be: "Photo Assignment: Sept. 2014." Also, if you can, please don't strip out the metadata. And feel free to add any IPTC data you wish (These fields in particular: Caption, Credit, Copyright, Byline), I use that for the caption info.
Gallery posting is one month behind the deadline. So I'm posting July 2014 gallery at the end of August, the August gallery will be posted at the end of September, and on and on.
Good luck with your September assignment, and congratulations to all of the fine contributors for July.
---
Want to Comment on this Post?
You can share your thoughts at the TDS Facebook page, where I'll post this story for discussion.