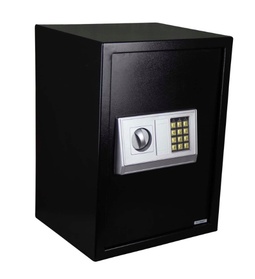 As we travel lighter, we're leaving more gear at home. Spare camera bodies and extra lenses that may not be needed for the work at hand, may be essential for next week's assignment. So it's not a bad idea to keep them safe... in a safe.
The plan is simple. Purchase a moderately priced, ample storage container, such as the Exacme Steel Digital Electronic Safe ($109), secure it in a cabinet, or to the floor or a shelf in a closet, and store your gear inside.
I like the Exacme model because it measures 20"x14"x12", has an easy-to-use electronic lock passcode, and includes an override key (just in case) plus bolting hardware.
I use old camera bags to organize my equipment inside the safe. One kit includes spare mirrorless gear, and the othe other is for DSLRs. When I'm preparing for a shoot, I open the safe, grab the lenses I need, lock up, and hit the road.
There are plenty of other safes on the market that also provide fire protection and more advanced locking systems. But the way I look at it, any safe is an improvement over having my lenses displayed on the office desk.
Want to Comment on this Post?
You can share your thoughts at the TDS Facebook page, where I'll post this story for discussion.