One of my favorite pictures of Ansel Adams is with him on the roof of his panel truck using a tripod to make a picture. When I first saw that image, I thought, "That guy is cool."
Often the tripod I have with me is of the compact variety, such as the MeFOTO DayTrip that extends only 24". In city settings, this lack of height hasn't been a problem.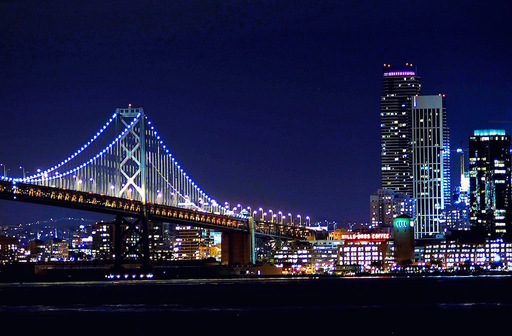 "San Francisco Skyline with Bay Bridge" captured with the OM-D E-M1 and a MeFOTO DayTrip tripod sitting on the hood of my car. Photo by Derrick Story.
In many situations, like Adams, I use my car to extend the height of my sticks. This image of the San Francisco skyline with Bay Bridge was recorded by mounting an OM-D E-M1 on the MeFOTO, and using the hood of my car as the platform. Rubber feet don't scratch the paint. (I've also used newspaper machines, street barriers, steps, walls, ledges and anything else I can find.)
I'm not sure if others around me thought I was cool. But I did get the shot.
---
Join me on my Instagram site as I explore the world of mobile photography. And now Instagram features 15-second movies too.
Want to Comment on this Post?
You can share your thoughts at the TDS Facebook page, where I'll post this story for discussion.