If you haven't updated your Google Nik Collection of plugins for a while, you might be greeted with an unhappy surprise after migration to Mac OS X Yosemite.
In my case, I was asked to reregister. And when I did, the software wouldn't accept my code. What caused this is incompatibility between the new operating system and an older version of the Nik suite.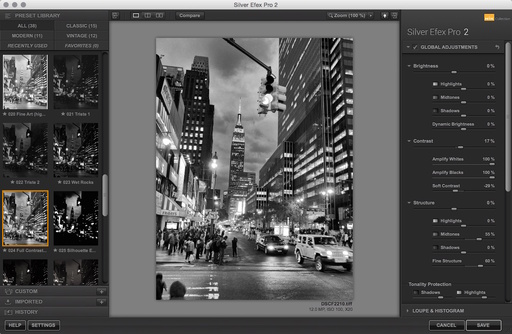 Everything is working fine again now that I have the latest version of Silver Efex Pro 2.
I contacted tech support and asked them to call me. Within a few minutes I learned that the most current version (2.2.x) of the Nik Collection seems to work well with Lightroom, Aperture, and Photoshop running on Yosemite. Google is working on an updated version of the suite that will ensure full compatibility. We should see that before too long.
If you haven't checked your Nik apps since upgrading to Yosemite, you might want to do so now. That way, you can get everything straightened out before you're in a time crunch.
Want to Comment on this Post?
You can share your thoughts at the TDS Facebook page, where I'll post this story for discussion.