This week on The Digital Story Photography Podcast: Canon Takes Aim at Mirrorless (again!), Holiday Photo Tips, New Polaroid Socialmatic Camera, SizzlPix Winners, BPG?- All of this and more on today's show with Derrick Story.
Snapshot - Specifications Aren't Always the Most Important Feature - Sometimes I opt for love. You know those decisions that don't seem logical, yet you know it's the right thing to do. I'm that way with cameras sometimes. I explain in today's Snapshot.
Weekly Update - Canon to Target the GH4 With New DSLR Type? We're told that Canon will be directly targeting the Panansonic GH4 at NAB 2015 in Las Vegas this spring. The new camera will  have a 1″ sensor, shoot 4K and will be very portable. Source: Canon Rumors.
Also this week... New Image Format BPG Looks To Replace The Popular JPEG - BPG (Better Portable Graphics) is based on the H.265Â video codec by utilizing the open source x265. This means BPG offers the ability to render 14 bits per color channel as opposed to 8 with JPEG. Source: FStoppers.com.
Story #1 - 5 Holiday Photo Tips - If you're lucky enough to be able to spend time with family and friends during the holidays, here are a few photo tips to keep in mind.
Think portraits as well as activities. Yes, it's fun to photograph Uncle Bill opening his present, but get a portrait too. In the coming years, those informal, environmental candids will become more valuable.
Reduce flash exposure. Most cameras emit too much flash indoors. Go to Flash Exposure Compensation and set it to -2/3 or even -1. Then increase your ISO to 400 or 800 to reduce dependency on the flash.
Get a group shot. Yes, everyone will moan and groan. But group shots tell a big story in just a single frame.It's worth your while to set one up.
Photograph food and decorations. Be sure to capture the food table before everyone digs in. Keep an eye out for decorations and place settings.
Share your images. The more people in the family that you share pictures with, the better the chances they will survive the decades. Believe it or not, sending email attachments are often the most effective because the recipients don't have to do anything to receive them.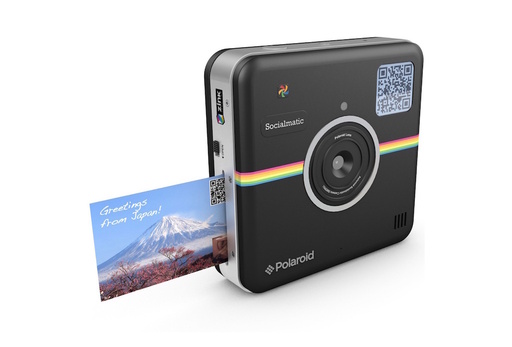 Story #2 - The Polaroid Socialmatic 14MP Wi-Fi Digital Instant Print & Share Camera ($299) - Has Polaroid found a sweet spot?
14 MP sensor
Instant Uploading Provides a Whole New World of Social Sharing Possibilities
Instant Printing Provides Immediate Gratification in 'Inkless' Photo Format
Full-Fledged Android OS: Browser, Email, GPS, Wi-Fi, Bluetooth, Apps, Etc.
Camera Can Embed Unique QR Code Into Images for Online Photo Tracking
4.5-Inch Full Color LCD Touchscreen; 4GB Memory, Expandable to 32GB
It is, however, about 5" x 5" and over an inch thick. So you would have to find a place for it in your camera bag.
Story #3 - New SizzlPix Winners! Congratulations to the follow virtual camera club members who participated in recent Photo Assignments and have been selected as SizzlPix Pick of the Month.
October 2014 - "Water" - Carl Shortt
September 2014 - "Shot From Behind" - Shelle Singer
August 2014 - "My Favorite Close Up" - Gary Legere
Virtual Camera Club News
Photo Assignment for December 2014 is "Frozen".
News from SizzlPix: Have your SizzlPix now, and with BillMeLater, make no payment until June. Great for selling SizzlPix of your photography and collecting your profit even before you pay. Also helpful for any photographer with an opportunity for gallery showings.
Red River Paper - Save 10 percent off your next order of inkjet paper and greeting cards. Good one per customer. Use discount code STORY10X - Ends 1/15/15.
And Finally...
If you haven't done so already, please post a review for The Digital Story Podcast in iTunes.
BTW: If you're ordering through B&H or Amazon, please click on the respective ad tile under the Products header in the box half way down the 2nd column on thedigitalstory.com. That helps support the site.
Download the Show
In addition to subscribing in iTunes, you can also download the podcast file here (29 minutes). You can support this podcast by purchasing the TDS iPhone App for only $2.99 from the Apple App Store.
More Ways to Participate
Want to share photos and talk with other members in our virtual camera club? Check out our Flickr Public Group. And from those images, I choose the TDS Member Photo of the Day.
Podcast Sponsors
lynda.com - Learn lighting, portraiture, Photoshop skills, and more from expert-taught videos at lynda.com/thedigitalstory.
Red River Paper -- Keep up with the world of inkjet printing, and win free paper, by liking Red River Paper on Facebook.
SizzlPix! - High resolution output for your photography. You've never seen your imagery look so good. SizzlPix.com. SizzlPix! now is qualified for PayPal "Bill Me Later," No payments, No interest for up to 6 months, which means, have your SizzlPix! now, and pay nothing until May!
Want to Comment on this Post?
You can share your thoughts at the TDS Facebook page, where I'll post this story for discussion.