I was happy to see that my Night in Las Vegas photo was picked up on Flickr Explore. It was one of those late night projects when I probably should have been working on something else (or sleeping!). But that's what a grande Americano and a nice hotel room will lead to.
"Night in Las Vegas" by Derrick Story. Samsung NX3000, 30mm f/2 prime lens, ISO 100, 10 seconds, f/14.
When scouting the photograph, I wanted an interesting traffic pattern. I knew I was going to be working with long exposures, so the shape of the light streams were important.
Setting Up the Shot
Once I found the spot, I set up the NX3000 with 30mm lens on a Joby GorillPod Micro and chose the Light Trace scene mode. I've had good luck with this function on Samsung cameras in the past, and it proved to be a winner once again. Light Trace takes a lot of the guesswork out of streaming light photography.
I studied the flow of traffic for a while, then timed the shot so I had cars going away from me, both straight and turning left, while those facing the camera were in a stationary formation. I liked this juxtaposition. How the MGM Grand was framed in the background was also important. Once I captured the composition I wanted, I stopped for a coffee and headed up to my room at NYNY.
Processing the Image
I loaded the Jpeg into Lightroom and applied the Cross Process 2 preset. If you've read about my night shooting before, you know that I rarely go with the original color scheme. I'm usually looking for something a little less yellow. The lighting on the hotel influenced my choice for this image.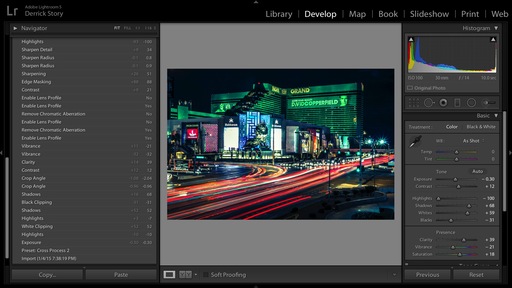 Cross Process created an interesting effect on the buildings, yet left the car lights alone (more or less). So all that was left to do was adjust the shadows - highlights - sharpening, etc. I then exported the image and uploaded it to Flickr.
Final Thought
The more I practice with night photography, the easier it is for me to visualize the final shot. This is helpful when scouting. Yes, you could set everything up, then look at a few exposures on the LCD. But that can be pretty slow going over the course of a chilly night. And a photographer can only drink so much coffee.
Want to Comment on this Post?
You can share your thoughts at the TDS Facebook page, where I'll post this story for discussion.