For the Dec. 2014 Photo Assignment, TDS shooters pulled on their mittens and ventured out into the cold. See for yourself in our gallery, Frozen. And which one will be the SizzlPix Pick of the Month?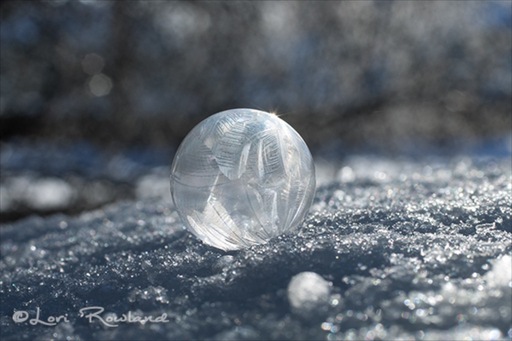 ---
Photo by Lori Rowland. Lori writes, "I had seen frozen bubble images on the Internet and decided to try some of my own. First I had to experiment with bubble recipes. You want a bubble that won't instantly pop. I used my patio table with snow on it as a platform. I moved my table to a location where I liked the background.
Then I blew of bubbles... and it's not easy, let me tell you! Most of the bubbles pop as they freeze. Then if you do get a good bubble, you have to land it on the table and hope the landing process doesn't pop it. Once you successfully land a bubble, you have to act quickly, before the bubble does pop. I tried for several days and had a ton of fun doing it. I found it worked best when the air temp was in the low to mid 20's. This is my favorite bubble of all! :-D
I shot this with a Pentax *ist DS, Pentax FA Macro 50mm Lens, ISO 200, ƒ11, 1/250, RAW. I processed with Adobe RAW and cropped it down a bit."
See all of the great images from this month's assignment by visiting the gallery, Frozen.
---
Note About Metadata
I noticed that Google Gmail was stripping the metadata out of your images when I saved them via right-click. Unfortunately, I didn't discover this until I had assembled the gallery. But I will work around it next time.
Participate in This Month's Assignment
The Feb. 2015 assignment is "Good Bye." (This will be our last photo assignment...) I'll talk about this in Tuesday's podcast. Details for submission can be found on the Member Participation page. Deadline is Feb. 28, 2015. No limit on image size submitted.
Please follow the instructions carefully for labeling the subject line of the email for your submission. It's easy to lose these in the pile of mail if not labeled correctly. For example, the subject line for this month's assignment should be: "Photo Assignment: Feb. 2015." Also, if you can, please don't strip out the metadata. And feel free to add any IPTC data you wish (These fields in particular: Caption, Credit, Copyright, Byline), I use that for the caption info.
Gallery posting is one month behind the deadline. So I'm posting Dec. 2014 gallery at the end of Jan., the Jan. gallery will be posted at the end of Feb., and on and on.
Good luck with your February assignment, and congratulations to all of the fine contributors for December.
---
Want to Comment on this Post?
You can share your thoughts at the TDS Facebook page, where I'll post this story for discussion.