Participating on social networks isn't for everyone. But for those who want more interaction around the images they create, choosing an online site or two can lead to rewarding experiences. Here's a quick guide to my favorites.
Instagram
Because it's so easy to post and comment via mobile devices, Instagram has become one of my favorite photographer communities.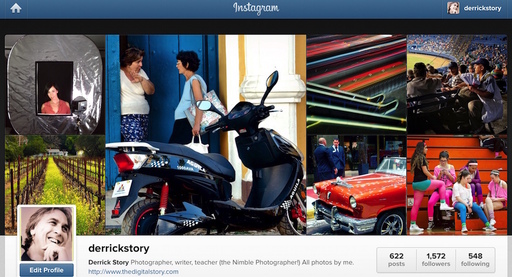 The trick here is to develop your Instagram personality. In my case, I've chosen to share the life of a photographer/writer in my feed. So my posts are about daily shooting and travel. Plus, I very much enjoy the work of those I follow.
Flickr
This social network for photographers has been pronounced dead more than Apple in the 1990s. Yet, today it continues to thrive.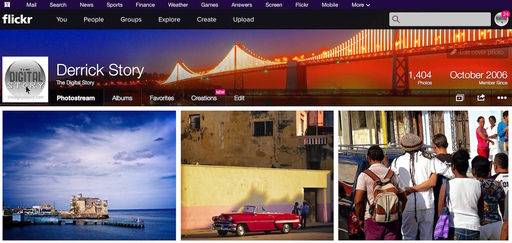 I've become more selective about what I post in my Flickr Photostream lately, using it more as a online gallery page for favorite images.
Unlike with Instagram, where I wouldn't hesitate to share a "behind the scenes" snapshot, Flickr is reserved for the finished product. It's the place that I send people to view my more serious efforts as a photographer.
We also have a wonderful TDS Public Group with more than 2,800 members and 46,000 photos. This feed appears in the Member Gallery page on thedigitalstory.com, and I select the "Member Photo of the Day" from this group to feature on our TDS Facebook page. The imagery here is fantastic.
The Flickr viewing experience has improved of late on both computers and mobile devices. So I'm also enjoying more work of those I follow. Plus, nothing beats the Flickr Explore page for daily inspiration.
Facebook
I have two Facebook pages. On the business side, the TDS Facebook Community is vital to my The Digital Story business. But I also maintain a personal page for friends and family.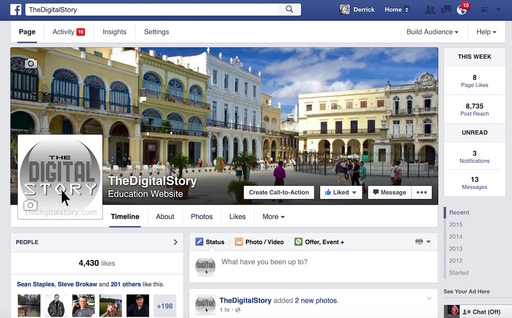 Photographers who want to engage in shop talk should consider setting up a fan page. Here, you can focus the conversation on your passion, and relegate the family snapshots to your personal page.
Ello
I'm still learning about Ello, but so far, I've liked the experience.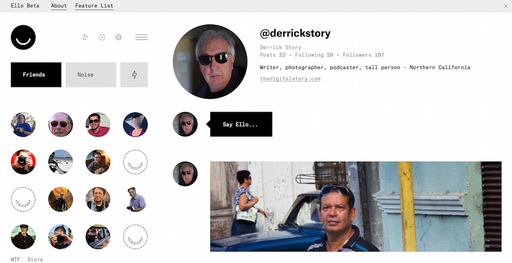 This is the place where I can post images that quite honestly, just don't fit in other places. I can try new techniques, show off my creative experimentations, and view the visual explorations of others.
For me, Ello is very nonjudgmental. This community seems to welcome diversity. I think Ello is here to stay... at least I hope so. It's a special place.
Twitter
Tweets have certainly become more visual these days. And even though I don't feel compelled to always include an image in my Twitter feed, I love having the option.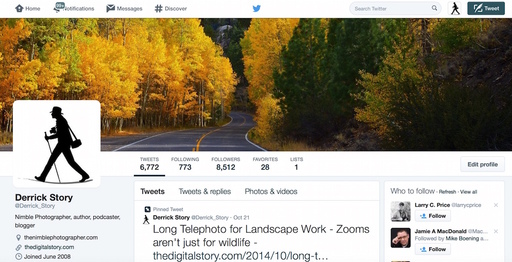 Twitter is an excellent way to get the word out. And it's a fun place to hangout and see what's going on. Many photographers use Twitter for their stream of consciousness sharing. I like it too, and I appreciate its natural, flowing conversation.
Other Sites
There's plenty more going on including Google+, 500px, and others. Each has its strengths and audience characteristics. And if the sites I've mentioned don't do it for you, keep looking. There's an online home that will be just right.
Want to Comment on this Post?
You can share your thoughts at the TDS Facebook page, where I'll post this story for discussion.
---
Join me on my Instagram site as I explore the world of mobile photography. And now Instagram features 15-second movies too.
---