This week on The Digital Story Photography Podcast: Essential Tools for Event Photography, 5 Additional Things to Do with a 50MP Camera, ACR 8.8 New Camera Support (but not Lightroom) - All of this and more on today's show with Derrick Story.
Weekly Update - Ten New Cameras Supported by ACR 8.8 -
Casio EX-ZR3500
Canon EOS 750D (Rebel T6i, Kiss X8i)
Canon EOS 760D (Rebel T6s, Kiss 8000D)
Fujifilm X-A2
Fujifilm XQ2
Hasselblad Stellar II
Nikon D5500
Olympus OM-D E-M5 II
Panasonic Lumix DMC-GF7
Panasonic Lumix DMC-ZS50 (DMC-TZ70, DMC-TZ71)
(Source:
DP Review
)
In other news... "Ricoh reveals pixel-shifting high-resolution mode: Coming soon to a camera near you?" Unlike Olympus' approach, which grabs 8 frames and uses a half-pixel shift between two groups of four to interpolate additional pixels, Ricoh's method uses just four shots, to bring the four pixels of each Bayer color filter array cell into alignment with each other. The resulting file has the same number of pixels as conventional shots, but each pixel contains full, uninterpolated RGB data. (Source: Imaging-Resource)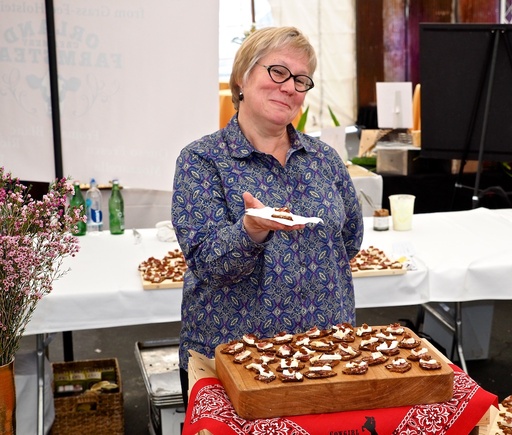 Story #1 - Essential Tools for Event Photography - Whether you're getting ready to shoot a wedding, trade show, or birthday party, these tools will help you capture better images while increasing your enjoyment. I'll explain each of these in the second feature of today's show.
A professional wide to moderate zoom. The constant aperture f/2.8 zoom that covers roughly from 24-70mms is a workhorse for the event photographer.
A fast portrait lens. I prefer a f/1.8 or f/2.0 85, 90, or 100mm prime lens to complement my zoom.
A lightweight flash modifier. I always carry at least one Rouge FlashBender to help me tame the light coming off my strobe.
Battery grip. Even when I shoot mirrorless, I keep a battery grip on the camera. This allows me to shoot the entire day without changing batteries, which usually occurs at the worst time possible.
A skilled assistant. Have an extra set of hands to manage the shot list, set up group shots, keep an eye on an activity not yet ready to photograph, and serve as a second shooter when needed is a blessing beyond description.
Story #2 - 5 Additional Things to Do with a 50 MP Camera - Yes, there are the obvious choices such as landscape and product photography with a new Canon 5DS R. But what about...
Start a business shooting life size portraits.
Become the first indoor sports photographer that only uses a 50mm lens.
Advertise yourself as a billboard photographer by shooting the first 50 MP selfie, then putting it on a billboard.
After the next holiday, send a 50MP RAW file attachment to a family member with a 5-year-old Dell with the caption, "Can you believe what Aunt Jenny revealed at the party?"
Rent your 50MP camera to other photographers who can't afford one, then use the money to buy stock in 4TB drives.
Story #3 - From the Screening Room - Black-and-White Project: Creating a Dramatic Landscape with Lightroom and Photoshop with Chris Orwig
You can watch Chris in action by visiting the TDS Screening Room at lynda.com. While you're there, you can start your 7 day free trial to watch all of Chris' movies, plus every other title in the library (including over 20 by yours truly).
Virtual Camera Club News
News from Red River Paper: Have you made your archive 6 prints yet for 2015? The best backup system in the world is high quality prints properly stored. I recommend that photographers do a print run of their best twice a year. Here's why.
Thanks to everyone who recently reviewed the TDS Podcast in iTunes!
BTW: If you're ordering through B&H or Amazon, please click on the respective ad tile under the Products header in the box half way down the 2nd column on thedigitalstory.com. That helps support the site.
Download the Show
In addition to subscribing in iTunes, you can also download the podcast file here (35 minutes). You can support this podcast by purchasing the TDS iPhone App for only $2.99 from the Apple App Store.
More Ways to Participate
Want to share photos and talk with other members in our virtual camera club? Check out our Flickr Public Group. And from those images, I choose the TDS Member Photo of the Day.
Podcast Sponsors
lynda.com - Learn lighting, portraiture, Photoshop skills, and more from expert-taught videos at lynda.com/thedigitalstory.
Red River Paper -- Keep up with the world of inkjet printing, and win free paper, by liking Red River Paper on Facebook.
SizzlPix! - High resolution output for your photography. You've never seen your imagery look so good. SizzlPix.com. SizzlPix! now is qualified for PayPal "Bill Me Later," No payments, No interest for up to 6 months, which means, have your SizzlPix! now, and pay nothing until May!
Want to Comment on this Post?
You can share your thoughts at the TDS Facebook page, where I'll post this story for discussion.