Back button focus - reprogramming a function button to handle focusing duties instead of a partial press on the shutter button - is particularly helpful for portrait shoots. I can set the focus on the eyes, then recompose and shoot without losing my focus point. I don't have to focus again until either I or the subject move.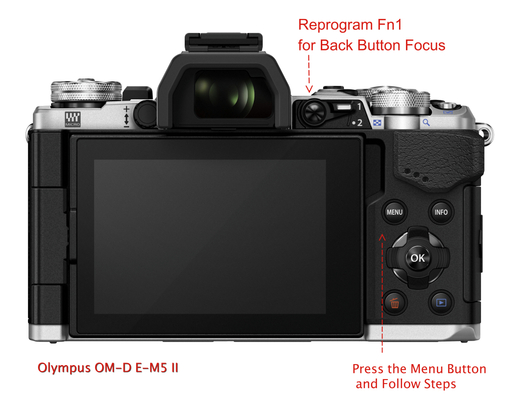 It's easy to set up on an Olympus OM-D once you know where to go. The steps here are for the Olympus OM-D E-M5 Mark II, but they also can be used for other models.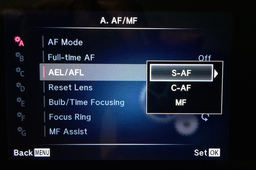 Press the Menu button and navigate to Gear-A (AF/MF)
Go to AF Mode and select S-AF - Press OK
Check that Full-time AF is Off
Go to AEL/AFL, click on S-AF, and select mode3, Click OK, Click Menu (See illustration to find S-AF)
Navigate to Gear-B (Button/Dial/Lever), Press OK
Click on Button Function
Click on Fn1 and select AEL/AFL, Click OK, Click Menu, Click Menu
Now, when you press Fn1, the camera focuses. Pressing the shutter button half way locks in the exposure. If you're using the Olympus vertical grip, also Program B-Fn1 to AEL/AFL. That gives you back button focus in the vertical position too.
Once my portrait shoot is over, I go back to AEL/AFL in Gear-A, click on S-AF, and select mode1. This is my normal way of shooting, using a half press on the shutter button to focus the camera. The Fn1 button then becomes exposure lock.
If you use back button focus often, you may want to program the 1/2 Lever on the E-M5 Mark II or the EM-1 (see illustration, the lever is right next to the Fn1 button). Position 1 could be normal half-press of the shutter button for focusing, and position 2 can be programmed for back button focus. That way you could change focusing modes quickly.
Want to Comment on this Post?
You can share your thoughts at the TDS Facebook page, where I'll post this story for discussion.