This week on The Digital Story Photography Podcast: Lightroom 6 (and CC) Ready for Primetime, Panasonic 20mm f/1.7 V2 Hands On, OM-D E-M5 Mark II Firmware Update Makes for a Faster Start - All of this and more on today's show with Derrick Story.
Weekly Update - "Apple buys camera-technology company LinX" - The acquisition would indicate that Apple is planning to do more of the imaging hardware development in-house. Currently the iPhone range uses image sensors supplied by Sony. An implementation of the LinX technology in future iPhone generations could not only mean improved image quality but also a whole new range of features. (Source: DP Review)
In other news... "NY State Police lock down campus for suspicious package that contained developing supplies" - After a full lockdown of the campus and immediate evacuation of the building containing the suspicious package, it was discovered via an X-ray machine that the package was nothing more than an abandoned container filled with supplies used for photographic development." (Source: Imaging-Resource.com)
And finally... "Olympus OM-D E-M5 Mark II Firmware Update 1.1" - Various fixes include: Audio can be faded out of movie files created with My Clips editing. Speed at which information is displayed when the camera is turned on has been improved. The issue of noise appearing in images captured while shooting with High Res Shot has been corrected. (Source The Photography Blog.)
Story #1 - "Lightroom CC Debuts" - Creative Cloud customers now have a brand new version to work with. The box version (Lightroom 6) is available too, but at a price. Highlights include:
New Photo Merge for both HDR and panoramas.
Facial recognition.
Advanced video slideshows.
Filter Brush: Precisely control which parts of your image are affected by the Graduated or Radial filters. Now you can use a brush to edit the filter's mask, adding or subtracting filter effects wherever you want.
Increased performance using GPU support (Mac OS X 10.9 or 10.10 only).
New camera profiles including: Canon 5Ds, Nikon D5500 and 7200, Olympus E-M5 Mark II and SH-2, Lumix GF-7, Fujifilm X-A2 and XQ2, and Samsung NX500.
Lots of new lens profiles.
Requires Mac OS X v10.8, 10.9, or 10.10 or Microsoft® Windows 7 with Service Pack 1, Windows 8, or Windows 8.1.
I have an eBook titled, "HDR and Panoramas with Photo Merge in Lightroom CC" that's published by Rocky Nook and that's available at this URL for the price of an email address.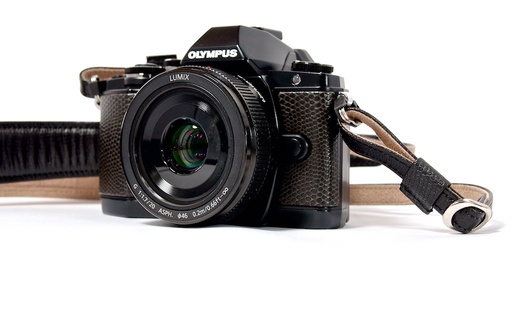 Story #2 - "Hands on with the Panasonic 20mm f/1.7 II. This gem weighs in at only 3 ounces and measures 2.48" x 1.00". Its fast aperture and natural 40mm effective focal length make it a wonderful street shooter. More about it in today's second story.
Story #3 - From the Screening Room - Photo Restoration Techniques: Damaged Black-and-White Images with Neil Rhodes.
You can watch Neil in action by visiting the TDS Screening Room at lynda.com. While you're there, you can start your 7 day free trial to watch all of Neil's movies, plus every other title in the library (including over 20 by yours truly).
Virtual Camera Club News
News from SizzlPix: For April, We'll make it easy to delight your friends and relatives with SizzlPix of your or their favorite photographs with a Digital Story exclusive! Take a 20 percent discount; 25 percent on 2 or more shipped together. Just put "TDS April" in the comments space on the SizzlPix.com ordering page.
Thanks to everyone who recently reviewed the TDS Podcast in iTunes!
BTW: If you're ordering through B&H or Amazon, please click on the respective ad tile under the Products header in the box half way down the 2nd column on thedigitalstory.com. That helps support the site.
Download the Show
In addition to subscribing in iTunes, you can also download the podcast file here (34 minutes). You can support this podcast by purchasing the TDS iPhone App for only $2.99 from the Apple App Store.
More Ways to Participate
Want to share photos and talk with other members in our virtual camera club? Check out our Flickr Public Group. And from those images, I choose the TDS Member Photo of the Day.
Podcast Sponsors
lynda.com - Learn lighting, portraiture, Photoshop skills, and more from expert-taught videos at lynda.com/thedigitalstory.
Red River Paper -- Keep up with the world of inkjet printing, and win free paper, by liking Red River Paper on Facebook.
SizzlPix! - High resolution output for your photography. You've never seen your imagery look so good. SizzlPix.com. SizzlPix! now is qualified for PayPal "Bill Me Later," No payments, No interest for up to 6 months, which means, have your SizzlPix! now, and pay nothing until May!
Want to Comment on this Post?
You can share your thoughts at the TDS Facebook page, where I'll post this story for discussion.