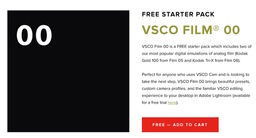 As if getting Lightroom 6 wasn't good enough, now VSCO has created a Film Pack with presets for TRI-X and Kodak Gold 100, and is offering it for free.
After you download VSCO Film 00, use their setup guide to install the presets in Lightroom 6, 5, or 4. VSCO's approach uses custom camera profiles that complement the film presets to fine tune the tone and color balance of your photos. The result is an impressive film emulation that is integrated into the Lightroom workflow. There's no round-tripping or being forced to wander outside the Develop module to use these tools.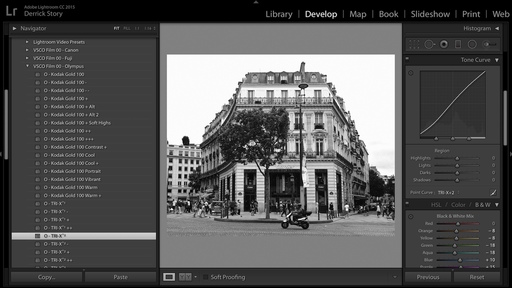 For example, here's 0-TRI-X+2 applied to a photo I captured in Paris with an Olympus OM-D E-M10 and the 14-42mm EZ zoom. When I installed the VSCO Film Pack, I selected only the cameras I typically use (Olympus, Canon, and Fujifilm) plus the Standard Presets. There might be a temptation to install all of the profiles, but they will occupy space in your left-side Presets column (although they can be collapsed by camera make).
Applying a preset is a simple process. Open the image in the Develop module and navigate to the VSCO presets on the left. The presets are designed to work with RAW files. You can use them with Jpegs, but it's a bit of a workaround, as VSCO explains here.
When I apply the TRI-X presets, for example, I notice the most activity in the Tone Curve, Grain, and B&W bricks on the right side of the Lightroom Develop module. I can continue to adjust the image, if I wish, using the other sliders.
The results are quite good. And I have to say, working with this free Film Pack does stir my interest in their other products.
Want to Comment on this Post?
You can share your thoughts at the TDS Facebook page, where I'll post this story for discussion.