Sometimes when I leave the house, I just want my camera, a lens or two, an iPad mini, and a few accessories. The bag I've been reaching for lately is the Vanguard Havana 21 Shoulder Bag ($39).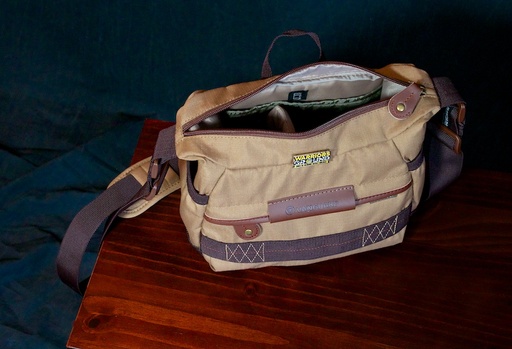 Top view of the Havana 21 camera bag - Warriors Ground enamel pin is optional.
For example, I used the Havana 21 last night when attending the Warriors vs Rockets NBA playoff game. Inside, I carried my Olympus OM-D E-M10, a second lens, the Olympus M. Zuiko Digital ED 45mm f1.8, and an iPad mini. There was still plenty of room for accessories and even the rolled-up playoff T-Shirt I brought home.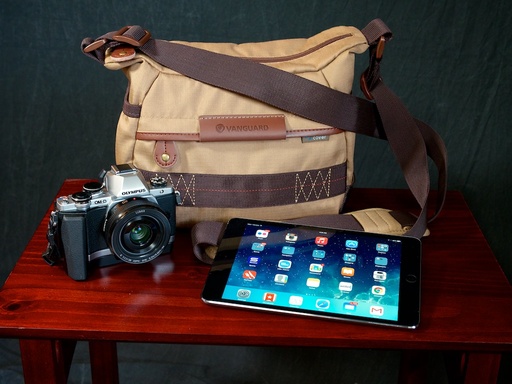 The bag easily fits any mirrorless system camera and accessories, plus a 7" tablet.
There's a sewn-in tablet sleeve inside of the bag. It will hold a 7" device, up to an iPad mini. The iPad mini is a bit sung in the sleeve, and it will only fit without a case. I tried a couple Android tablets that were a bit smaller, and they slid in easily. You can also use the back pocket for the 7" tablet if you want quicker access. Again, the iPad mini fits there, albeit snugly.
The front zippered pocket is perfect for accessories. The detachable rain cover is shipped in there. You can remove it for storage if you wish. There are two stretchy side pouches that can be use for a water bottle or more accessories. The bag also ships with two dividers that allow you to configure the interior to you specific equipment.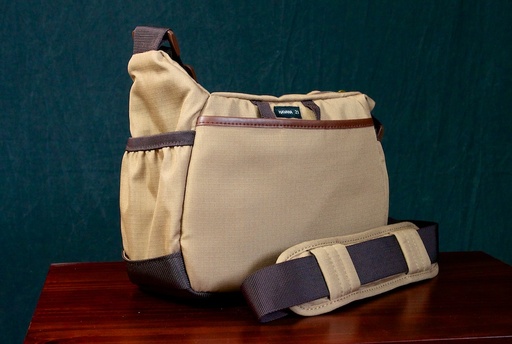 There's a pocket on the back that's secured with a velcro tab, plus stretchy pockets on each end for water bottles or more accessories.
The Vanguard Havana 21 is a fun bag. It goes anywhere with you - including passing through the security check at sports arenas - and it has a long padded strap that allows you to carry it over one shoulder, or cross-ways messenger style. The leather pull-tabs and accents are a nice touch, and the construction is quite good.
And in addition to all of that, it's downright handsome. Highly recommended.
---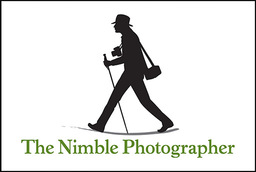 The Vanguard Havana 21 has a high Nimbleosity Rating. What does that mean? You can learn about Nimbleosity and more by visiting TheNimblePhotographer.com.
Want to Comment on this Post?
You can share your thoughts at the TDS Facebook page, where I'll post this story for discussion.