This week on The Digital Story Photography Podcast: DxO ONE: The Pocket Powerhouse Camera; Plug Your Aperture Plugins into Emulsion: a New Photo App for the Mac; Say Ello to iOS - all of this and more on today's show with Derrick Story.
Weekly Update - "Ello for iOS Has Arrived". Ello is now available for iPhone and iPad: "Featuring dozens of new features, including real-time notifications, new ways to find your friends, full screen images, and a hell of a lot more. And no ads, forever."
In other news... "Samsung Testing Prototype Truck With Live View Camera" Fstoppers reports: "Samsung is currently testing a prototype truck in Argentina fitted with a camera on the cabin and a live view display in the rear. The purpose of this is to help drivers safely pass trucks; a task which often proves difficult and has resulted in many accidents."
Story #1 - "DxO ONE: The Pocket Powerhouse Camera" -
Artists no longer have to choose between mobility and quality. The DxO ONE packs a 1″ sensor into a palm-size camera with a 6-element f/1.8 aspherical lens. When combined with bundled DxO software, the image quality can be stunning.
The system is simple. The 3.8 ounce device that measures 67.5 x 48.85 x 26.25 mm plugs into an iOS device, such as an iPhone 5S or 6, via its built-in Lightning connector. You can control the camera and compose the shot using the mobile device. Jpegs are saved to the iPhone (optional) and DNG RAW files are recorded to the microSD card in the camera. You can use the Jpegs immediately for social media and fine tune the RAW files later on your computer.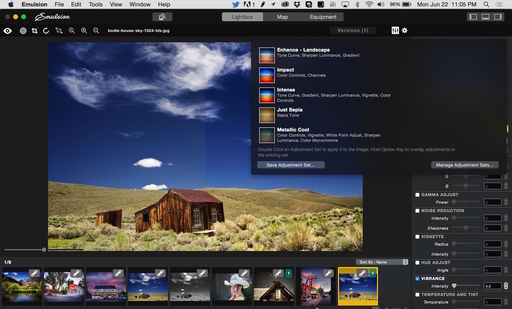 Story #2 - "Emulsion Could be the New Home for Your Aperture Plugins"
I've been playing with a new image workflow app called Emulsion. It runs on Mac OS X Yosemite, and it provides some handy non-destructive image editing tools plus star ratings, keyboarding, and more. Two of its more interesting features are that it accepts Aperture editing plugins and can import an iPhoto library. Emulsion handled all of the RAW files on my Mac, plus Jpegs and Tiffs. But what was really interesting was using it with Color Efex Pro. More on this in today's second story.
Story #3 - From the Screening Room - Up and Running with Pixelmator with Richard Harrington.
You can watch Richard in action by visiting the TDS Screening Room at lynda.com. While you're there, you can start your 7 day free trial to watch all of Richard's movies, plus every other title in the library (including over 20 by yours truly).
Virtual Camera Club News
Moving from Aperture to Photos or Lightroom - August 7-8 - Now that Aperture will no longer be developed, many photographers are contemplating their next move. In this software workshop, we'll explore the two leading contenders: Photos (part of the Yosemite Update) and Adobe Lightroom. By the time we conclude, you'll have a much clearer idea about your photo management future. Two full days plus breakfast and lunch - all included for just $495. Use the Send Me Info form to receive a reservation form.
Show Off with SizzlPix
Do you want to blow away friends and family with your photography? Then hang a 5k Ultra High Definition SizzlPix on the wall at home. You won't believe the comments.
Give it a try. They'll send Digital Story listeners and readers a free mini-proof before production; just put "proof first, TDS" in the comment space on the SizzlPix order page.
Did you know that Red River Paper has a Discounts and Clearance page? Ink, paper, greeting card stock, all at big savings.
Thanks to everyone who recently reviewed the TDS Podcast in iTunes!
BTW: If you're ordering through B&H or Amazon, please click on the respective ad tile under the Products header in the box half way down the 2nd column on thedigitalstory.com. That helps support the site.
Download the Show - MP3 Version
In addition to subscribing in iTunes, you can also download the podcast file here (33 minutes - MP3 version). You can support this podcast by purchasing the TDS iPhone App for only $2.99 from the Apple App Store.
More Ways to Participate
Want to share photos and talk with other members in our virtual camera club? Check out our Flickr Public Group. And from those images, I choose the TDS Member Photo of the Day.
Podcast Sponsors
lynda.com - Learn lighting, portraiture, Photoshop skills, and more from expert-taught videos at lynda.com/thedigitalstory.
Red River Paper -- Keep up with the world of inkjet printing, and win free paper, by liking Red River Paper on Facebook.
SizzlPix! - New 5k Ultra High Definition SizzlPix output for your photography. You've never seen your imagery look so good. SizzlPix.com.
Want to Comment on this Post?
You can share your thoughts at the TDS Facebook page, where I'll post this story for discussion.