I have two boys graduating from high school today. Like every other dad, I can't believe it's here already. And in a few hours, we'll all head to the ceremony at the school football field.
We've talked about how we're going to take pictures. Last night, for example, we had a short pow-wow and decided to meet near the goal posts once the ceremony had concluded. We'll take a few portraits, have a few hugs, then send them off to their grad night celebration.
I'm writing this post now because I'm trying to figure out what to pack. And my feeling is, that I'm a dad first today, and a photographer second. I want my attention focused on them, not on my camera's mode dial.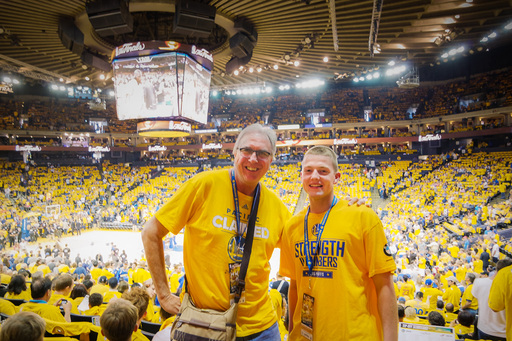 Derrick and Max at Game 1 of the NBA Finals, where the Warriors defeated the Cavs in overtime. It was our first finals game.
I'm actually OK with relatively average family snapshots. A good example is a photo from last night, at Game 1 of the NBA Finals at Oracle Arena. It was our first finals ever, and now I have a photo to always look back on. (In case you were wondering, Max's brother, Zach, goes with me on Sunday to Game 2.)
At that moment, I was a dad, not a photographer. I handed the camera to a fellow fan, asked him to get the scoreboard in the shot, and just let go. I didn't even review it until later. Max and I turned our attention back to the festivities at hand. (BTW: I thought his composition was pretty darn good. Thanks fellow Warriors fan.)
I'm going to stick with this frame of mind today. I'll pack a mirrorless camera in my Havana 21 shoulder bag, a couple of lenses, and plenty of sunscreen.
I'm sure I'll get some shots. They might not be perfect. But I'm betting they will be good enough. And for darn sure, I'm not going to miss a moment of this once in a lifetime event.
---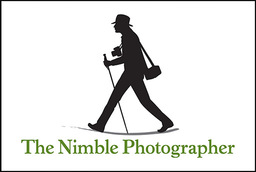 My bag today will have a high Nimbleosity Rating. What does that mean? You can learn about Nimbleosity and more by visiting TheNimblePhotographer.com.
Want to Comment on this Post?
You can share your thoughts at the TDS Facebook page, where I'll post this story for discussion.