Some days, it feels like everyone is posing for me.
Street shooting is such a funny thing. I think most conscientious photographers try to balance capturing good imagery with invading people's personal space. And I agree, that's a good tightrope to walk. But there are those times when subjects seem to seek out my camera. Here are two instances from my recent trip to Santa Barbara.
The Kissing Couple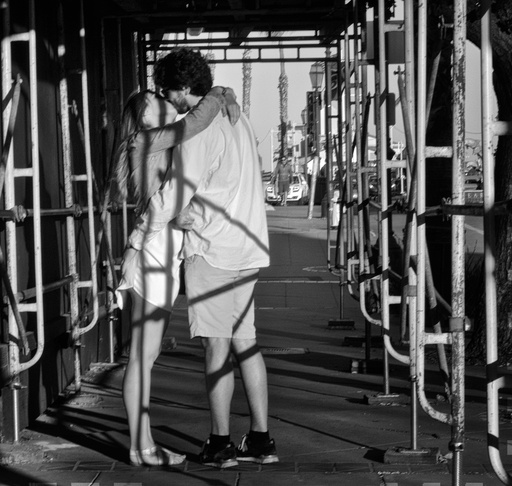 "The Kissing Couple" captured with an Olympus SH-2 by Derrick Story.
I was walking down State Street in Santa Barbara toward Stern's Wharf. It was approaching twilight and the long shadows were stretching across the landscape. I had my camera out and was taking artsy snapshots and enjoying the beautiful weather.
This couple was walking a short distance in front of me. Suddenly, they stopped, she pulled him close to her, and they had a long embrace. My camera was in plain sight, and she saw me as they kissed.
I didn't stop and strike a pose, rather just took pictures as I walked by. I didn't hide anything, nor did they. I think it's a sweet, unusual, photograph.
Strike a Pose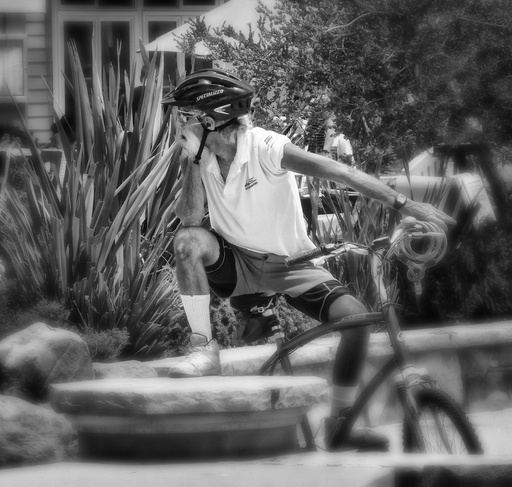 "Bike Guy" captured with an Olympus SH-2 by Derrick Story.
The next day we were exploring Avila Pier near San Louis Obispo, and I noticed this guy who had seen me taking pictures. I gathered that he was a local character. He proceeded to strike a pose. Of course I was obligated to take the picture.
There are cameras everywhere these days. It seems to me that taking pictures in public is about as common as window shopping and asking for directions. A respectful attitude combined with a straightforward approach seems to be a recipe for engaging photographs.
And if someone indicates that they don't want their picture taken, politely move on. I promise there will be something interesting around the next corner.
Want to Comment on this Post?
You can share your thoughts at the TDS Facebook page, where I'll post this story for discussion.