One of my most embarrassing experiences from the film days was when I was shooting product shots for a company with a 4"x5" monorail view camera. The setups were fairly elaborate, and I didn't want to take a chance on messing up the shot. So I bracketed wildly in both directions.
When I picked up the transparencies from the lab, there was a thick stack of pictures instead of what should have been a dozen. As I spread the frames on the lightbox, I did indeed get a properly exposed, good color balanced, sharp image of each set up. I also had dozens of over/under exposed films.
At that moment, I felt like I didn't really know what I was doing. And I vowed to get better.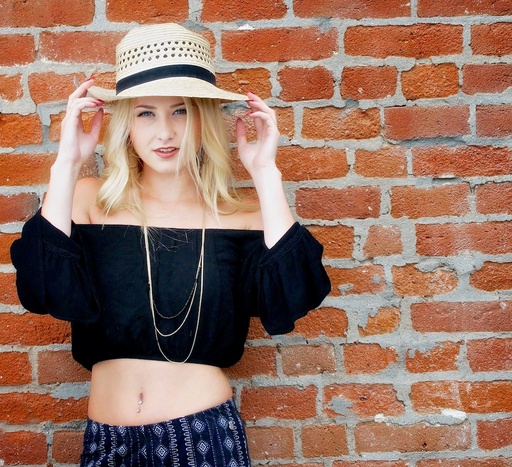 Carrie Dungan with Straw Hat and Brick Wall, Santa Rosa, CA. Olympus OM-D E-M5 Mark II with 40-150mm f/2.8 PRO lens. A reflector was used for fill light. Photo by Derrick Story.
Fast forward to 2015. In the digital age, I can shoot as many frames as I want, and it doesn't cost me, or the client, any money. But I still carry the weight of that experience from years ago with me.
My goal these days, is to shoot as many frames as needed to get the proper expression and composition, and trust that I can handle the technical details in camera. When some might shoot 500 frames, I capture 150.
For most model shoots, such as the image above with Carrie, the subjects are surprised at how fast the session goes. "Did you get enough?" they would ask.
I've noticed that this speed is a real benefit for commercial shoots too. Many of my portraits are scheduled for work hours onsite, when busy executives don't have much time to spare for photography. Once client remarked, "We used to have to go to a studio, spend 45 minutes there, then get back to the office. Now we're done in 10 minutes."
Working fast is a good thing in the business world. My days of excessive frames are well behind me. And the bonus is, I spend far less time in post production too.
Can you say, "Good night's sleep..."?
Want to Comment on this Post?
You can share your thoughts at the TDS Facebook page, where I'll post this story for discussion.