Emulsion is a $49 photo management and processing application for the Mac that I've really enjoyed testing. It will be one of the recommendations for my upcoming Moving from Aperture workshop, and it will be featured in a "software for photographers" eBook that I'm working on.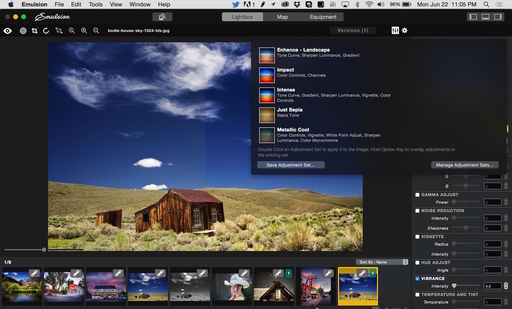 Aside from its pleasing user interface and helpful set of photo management and editing tools, I'm thrilled that I can use my existing Aperture plugins with Emulsion. I depend on Color Efex Pro and DxO Film Pack for my work, and they perform seamlessly with this software.
Other notable features include:
Choice or Referenced or Managed Catalog (Library)
Can Edit EXIF Metadata
Uses Apple's RAW Support
Equipment Database for Your Gear
Create Your Own Editing Adjustment Sets
Uses the Version Metaphor for Non-Destructive Editing
Decent Photo Browser
Albums and Smart Albums
Since it's a young app, just released in June 2015, it also has a few rough edges. Printing depends solely on your existing print drivers without an application interface, the export function could use more options, and they will probably have to improve their caching scheme to boost performance.
That being said, if you're not a fan of Photos for OS X or Lightroom, and you want a nice home to manage and edit your images, Emulsion is worth a look. I have a good feeling that this application is going to evolve into a niche that resides above Photos for OS X and below Lightroom and Capture One Pro.
Emulsion is available from the Mac App Store, or directly from the Escapers web site for $49. They offer a 30 day free trial too.
Want to Comment on this Post?
You can share your thoughts at the TDS Facebook page, where I'll post this story for discussion.