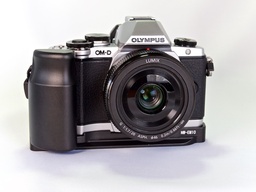 At the last TDS Photography Workshop I was introduced to the Neewer Black Metal Quick Release L-Plate Bracket Grip ($28) by one of the participants, Kevin Miller. He was sporting one on his black E-M10.
The integrated Arca-Swiss mounting plate that comprised the bottom and side of the grip was just what I was looking for. I have a similar rig for my E-M5 Mark II, but unlike that accessory that cost me $149, the Neewer is only $28. And it's terrific.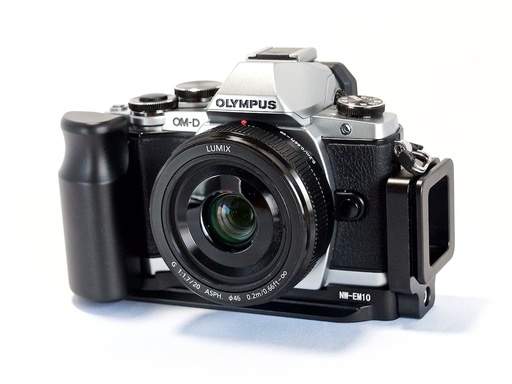 Neewer grip with side plate attached. Photos by Derrick Story.
The side plate is removable, so if you don't need a quick release for the vertical position, you can unscrew it, as I normally do. (See top photo for without, and above image for with.) Regardless of what you do on the left side, the right side grip is very comfortable, especially for larger hands that like a little extra real estate to hold on to. Smaller hands, however, might not like having to reach back a bit with the index finger to press the shutter button. You'll have to try it to determine for yourself.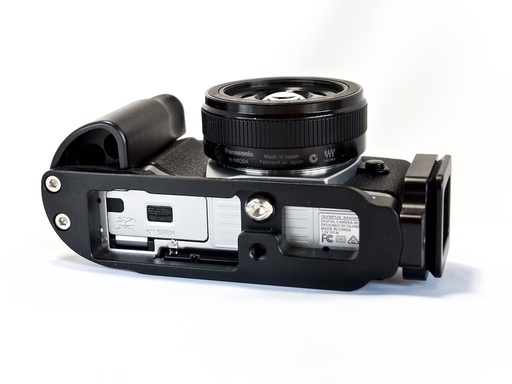 The bottom features an opening that allows you to change battery and memory card with the grip attached. There's also a tripod socket for those situations when you're not using Arca-Swiss. And a nice touch is the mounting screw that accepts both an allen wrench (included) or a slot for coin tightening. So if you misplace your allen wrench, then you can still attach and remove the accessory.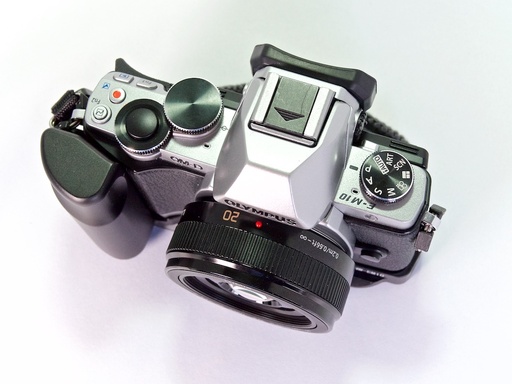 The grip's design works well with the E-M10. And the aluminum material is light and durable. And to tell you the truth, after having the grip on and shooting with it, the camera feels a bit awkward without it.
---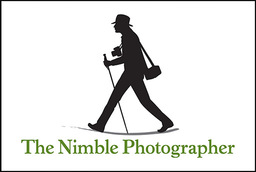 The Neewer Black Metal Quick Release L-Plate Bracket Grip has a high Nimbleosity Rating. What does that mean? You can learn about Nimbleosity and more by visiting TheNimblePhotographer.com.
Want to Comment on this Post?
You can share your thoughts at the TDS Facebook page, where I'll post this story for discussion.